ASTON MARTIN DBR1/2
Victory at Le Mans in 1959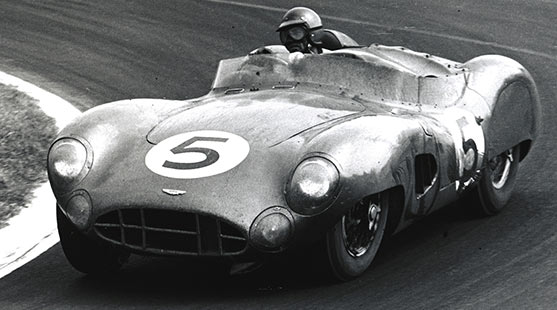 TMB's Aston Martin DBR1/2 Essence of Form Cufflinks are one of the most spectacular automotive cufflinks ever created. The miniature Essence of Form sculptures, which depict the iconic 1950's DBR1 sports racing car, are crafted using actual original redundant aluminium body panel pieces from DBR1/2 as 'donor' metal and thus possess a true physical 'DNA' connection to DBR1/2, the most famous and valuable Aston Martin in the world.
DBR1/2 is the very car in which Carroll Shelby, in partnership with Roy Salvadori, secured victory at Le Mans in 1959, the only time Aston Martin have won this iconic challenge of human and mechanical endurance. But it is also the car in which legendary racing driver Sir Stirling Moss contributed significantly to winning both the 1958 and 1959 RAC Tourist Trophies at Goodwood and, in doing so, helped Aston Martin clinch the coveted World Sports Car Championship for 1959.
During the car's restoration by noted engineer Tim Samways in the early 1990's a small quantity of damaged or age distressed original period aluminium body panels were removed from DBR1/2 and it is specifically using sections of this ex-DBR1/2 panelling that our unique cufflinks are crafted.
These cufflinks depict DBR1/2 in our house style of "Essence of Form", with no fine detail, just the basic shape of the car, to more readily reveal what a stunningly beautiful car the DBR1 is. The cufflinks are accompanied by certificates of authenticity signed personally by Sir Stirling Moss.