ASTON MARTIN DB4 GT ZAGATO
One of the most famous and significant Astons in the world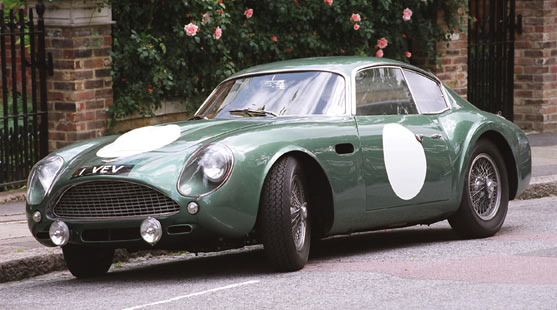 Our lovely, subtle, DB4GT Zagato "1 VEV" cufflinks incorporate miniature sculptures crafted of original body panel sections removed during the restoration of 1961 vintage 1 VEV, one of the most famous and significant Astons in the world.
Aston Martin first launched the DB4 in 1958 and then a shorter, lighter, more powerful version, the DB4GT, at the London Motor Show in 1959. But this still wasn't a fast enough car to satisfy Aston's desires to conquer the successful Ferrari 250 Short Wheel Base on the race track and, in consequence, they approached noted Italian coachbuilder Zagato to help create a new lighter, race modified version to wring out every possible advantage from the car.
The resultant Aston Martin DB4GT Zagato was unveiled at the 1961 London Motor Show to much acclaim. Unfortunately, however, although possessing a wonderfully sculpted shell the DB4GT Zagato still didn't perform with enough capability on the race track, it being outpaced by the Ferrari 250 SWB and totally outclassed a year later by the legendary 1962 Ferrari 250GTO.
Nevertheless, despite its lack of success on the track the DB4GT Zagato has become a legend amongst Astons and, of the mere nineteen original cars that were built, by far the most famous are those bearing the registration plates "1 VEV" and "2 VEV", these cars fielded by John Ogier's renowned Essex Racing Stable and driven by the likes of Jim Clark, Innes Ireland and Roy Salvadori. Alongside DBR1/2, 1 VEV is now one of the most coveted Aston Martins in existence with a suitable multi-million pounds value attached.
As with all these wonderful, historic cars, provenance is vital and generally only the minimum of restoration work is undertaken to preserve them for the future. But such periodic preservative work is essential and in 2006 1 VEV underwent minor restoration at world-renowned Aston specialist R S Williams in Surrey, where a small amount of original 1961 vintage body panel sections were removed, these being corroded or age damaged beyond reuse. It is of this exclusive ex-1 VEV aluminium that our miniature DB4GT Zagato sculptures are crafted.