SUPERMARINE SPITFIRE
Spitfire MK1 X4276 KL-B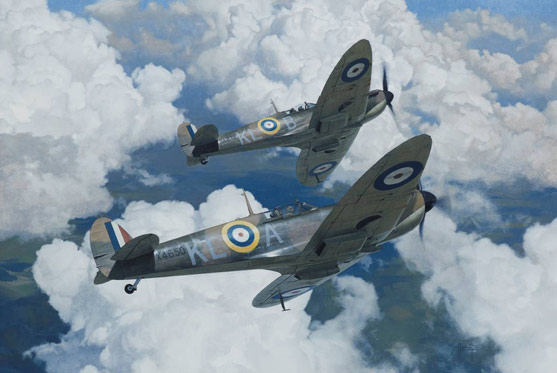 "Stick To Me Like Glue", a superb painting depicting Al Deere in Spitfire X4276 KL-B leading X4650 KL-A*
In tribute to what must be the most evocative aerial icon of all time, the Supermarine Spitfire, TMB Art Metal are producing a range of Sculptures, Cufflinks and Cases made of metal from two significant Spitfire aircraft. Our inaugural Spitfire products incorporate original 'donor' metal originating from the Rolls-Royce Merlin engine fitted to Spitfire Mk 1 X4276 KL-B, a Spitfire associated with one of the most famous and celebrated of all RAF Aces.
Spitfire X4276, which possessed the squadron letters KL-B and was nicknamed 'KIWI', was the personal machine of the legendary WW2 ace Alan C Deere. X4276 crashed on 28th December 1940 after a mid-air collision with another Spitfire during a training sortie, Al Deere bailing out safely. Of New Zealand origin (hence naming his Spitfire 'KIWI') Deere was one of the most successful and distinguished of all fighter pilots, by the end of the war accumulating 22 enemy 'kills' with another 10 'probables'.
TMB Art Metal have created two editions of sculptures and two editions cufflinks crafted using metal from X4276 KL-B's Rolls-Royce Merlin which was excavated from the ground in the 1980's. The Rolls-Royce Merlin engine fitted to Spitfire X4276 KL-B was a Mk III bearing serial number 30363, which official records state was built in July 1940, fitted to X4276 and delivered to 54 Squadron on 28th August 1940. It then underwent its maiden flight with the squadron commander, Squadron Leader James Leathart, on 1st September 1940 and was flown by Al Deere five days later, following which Deere 'claimed' X4276 as his personal aircraft.
Picture courtesy of Alex Hamilton www.alexhamilton.net