ROYAL BRITISH LEGION
Provenance Metal Centenary Poppy Pins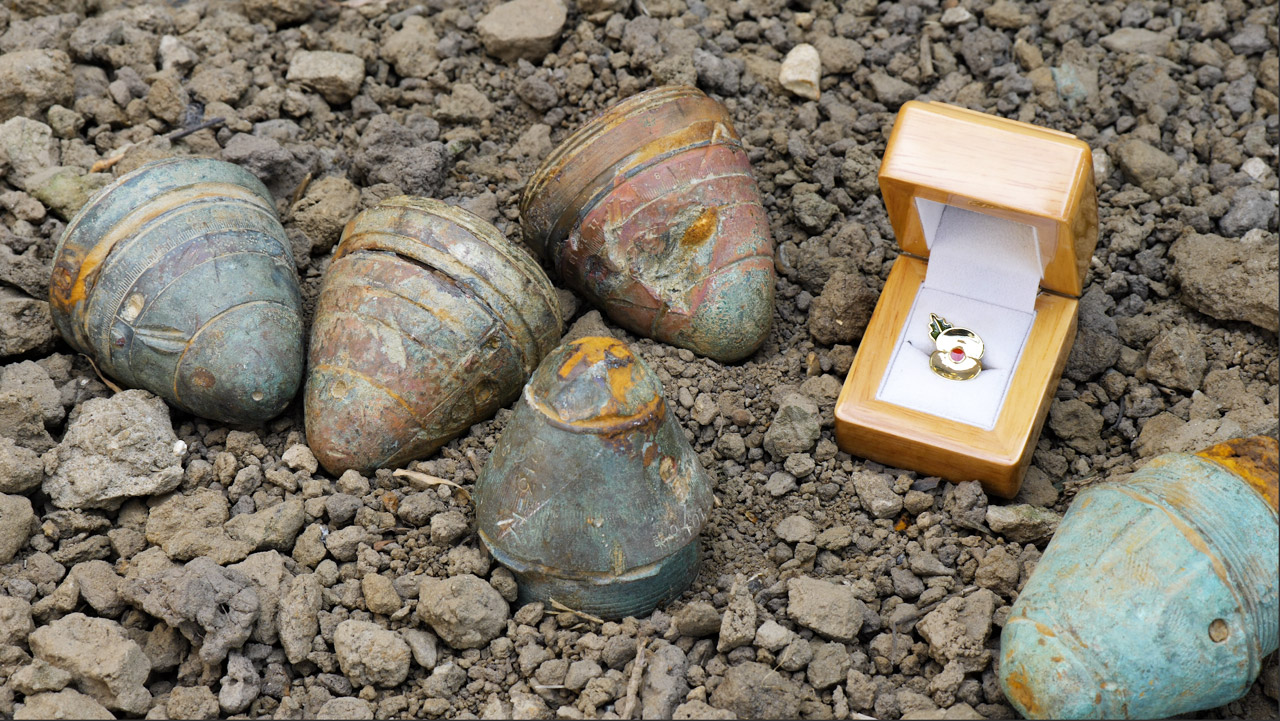 For the centenary years of World War One TMB crafted a series of beautiful poppy pins made of metal from the battlefields and earth from the fields too, so each poppy possessed the very essence of the battlefields that the brave men fought upon, died upon and many still lie at peace beneath. Most notable amongst these projects were our Somme pins, of which we crafted just over 100,000, so a pin exists dedicated to every British soldier who died on the battlefields of the Somme in 1916, and a similar project involving 60,083 poppy pins remembering the men who Fell at Passchendaele, near Ypres, in 1917.
Short films telling the stories of these projects
RBL Somme 100 Centenary Poppy Pins Film
RBL Passchendaele 100 Centenary Poppy Pins Film
Christopher Bennett talks to BBC Breakfast about the RBL Somme 100 Poppy Pins
TMB Mons 1918-2018 Centenary Poppy Pins
I was immensely proud to have created these pins, partly because of the funds they raised for the RBL but also because they helped bring to mind soldiers who gave their lives in 1916 and 1917 and who's names may not have been thought of for decades.
When the Somme pins were launched in early 2016 my wife, Vicky, bought a pin from the RBL's website, so that we might experience the 'buying experience' first hand. Ours was dedicated to Private George Mobbs who's remembered at Thiepval, being missing. When I was in France I visited Thiepval and sought out his name. George (I christened him Mobbsy) is totally anonymous to me, but it was quite emotional to find him – a man who has probably not been in anyone's thoughts for decades, and to know he is now once again remembered and No Longer Forgotten. Being missing, George Mobbs was just a name carved on a wall; it must be much more emotional to find and visit a soldier's actual grave, where he rests.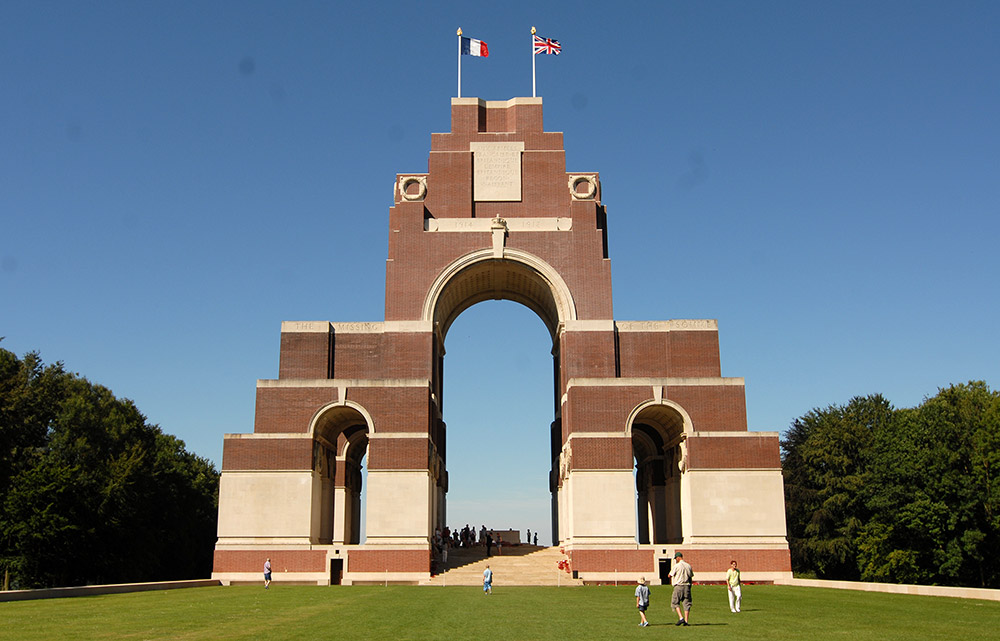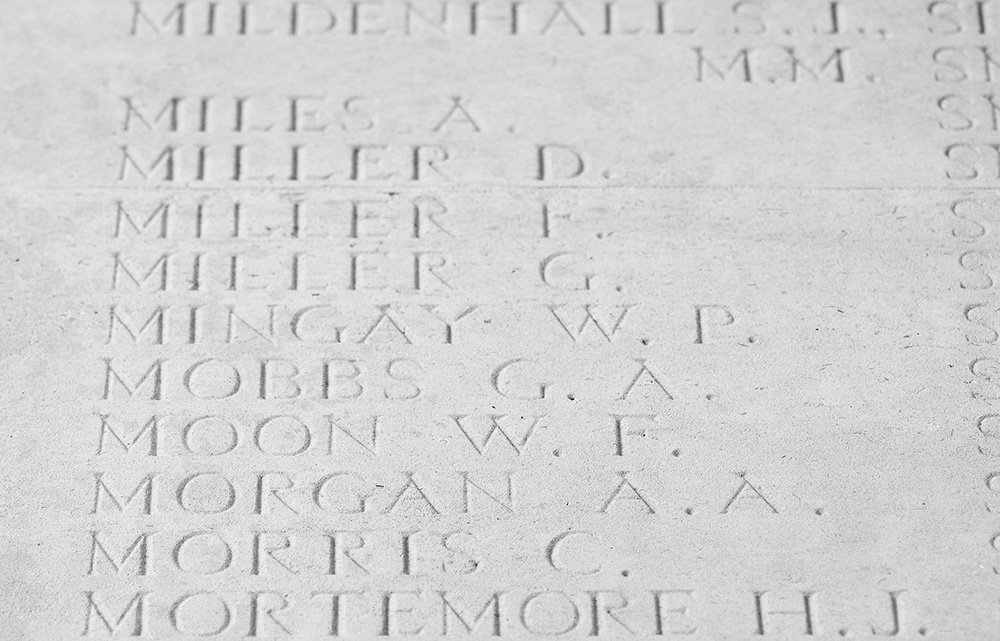 George Mobbs served in the Hampshire Regiment and died on 1st July 1916, the first day of the Somme. Having done more research, it turns out its likely he met his end on the Redan Ridge above Beaumont Hamel, an area I previously used to field walk looking for fuses and items. Its incredible to think that by coincidence and pure chance I would likely have walked within feet of where Mobbsy met his end 100 years before….
In 2016 I was contacted by a lovely man, Keith Mallinson, who's clearly something of a poet, as he'd written a beautiful poem dedicated to his 'adopted soldier', Private Johnson Hamill, and been to France to find his last resting place. I mentioned the above story to him and, without any solicitation, Keith wrote the attached poem dedicated to our Mobbsy. During one of my visits to the Somme in 2016 I printed it off, framed it, and left the poem at the Thiepval Memorial where George Mobbs is remembered.
You can view the poem here.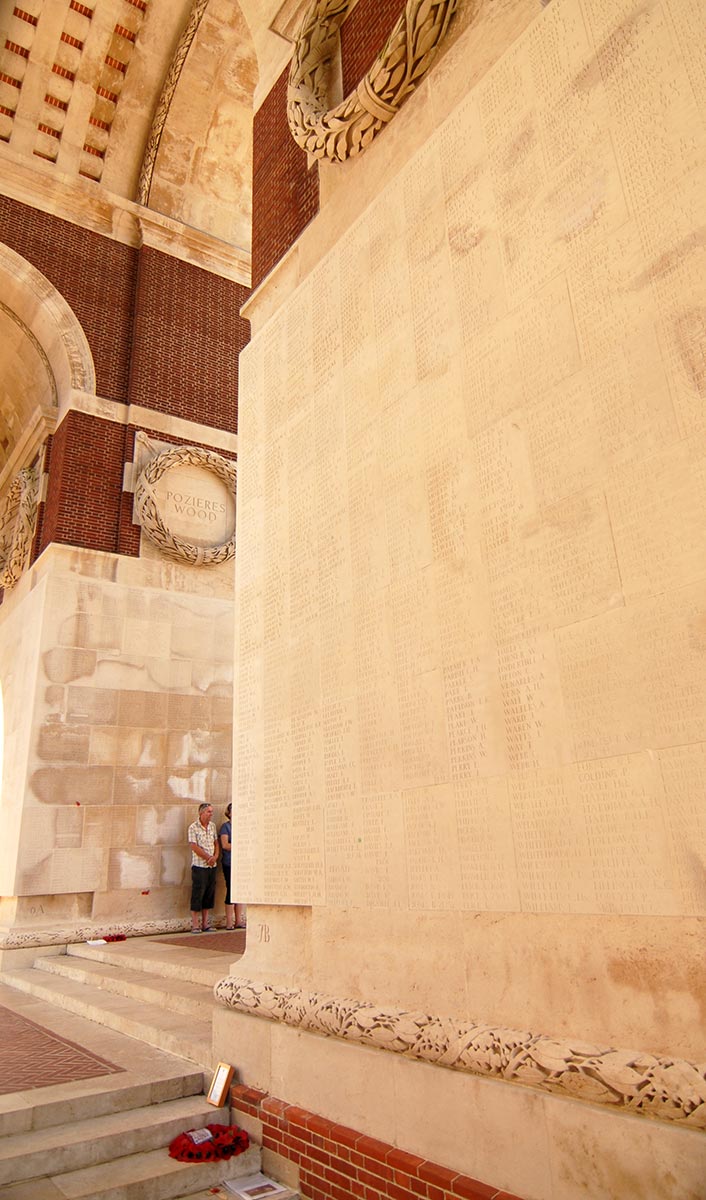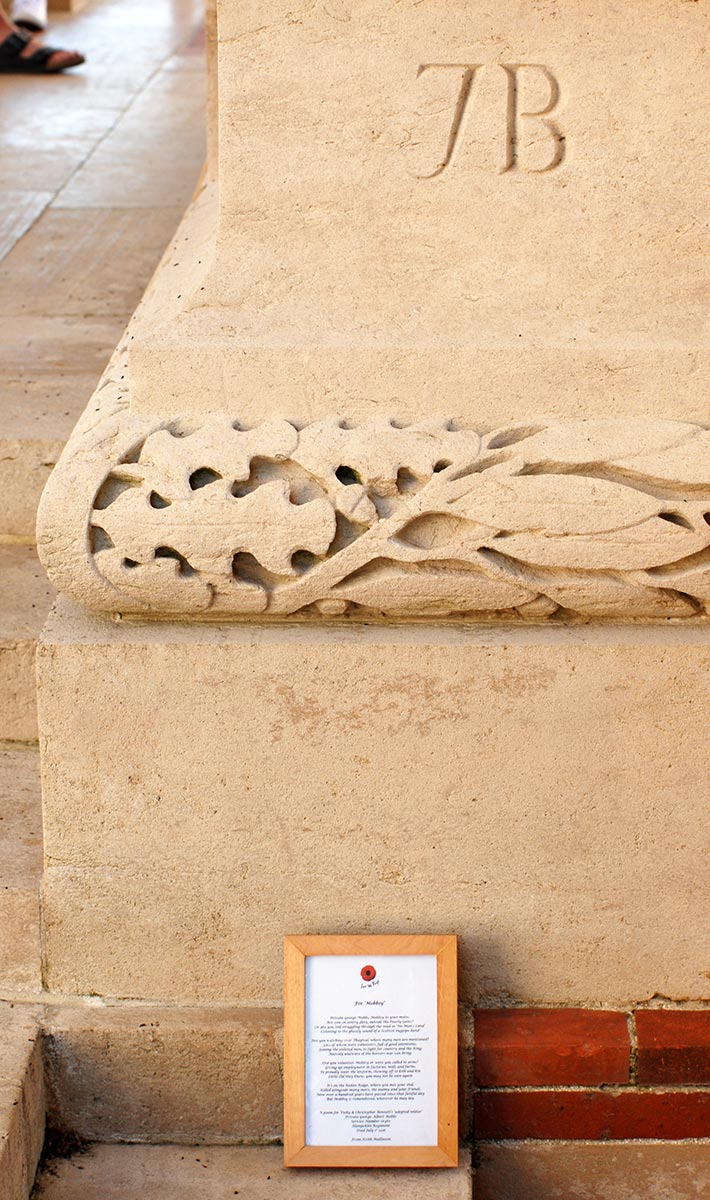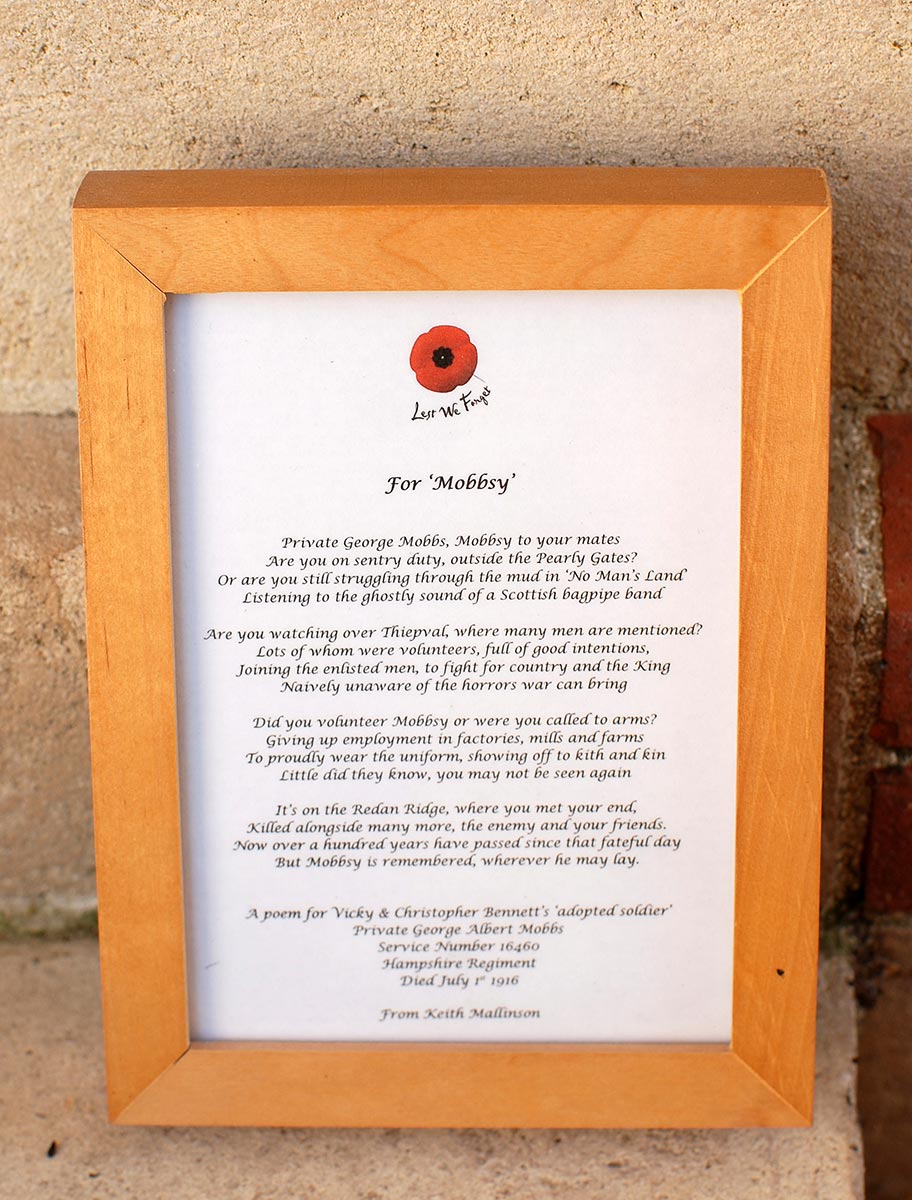 I also had some wonderful letters and emails from other people who had purchased a Somme Poppy Pin and sought out their "adopted" soldier, someone totally anonymous to them. This is one such received:
Dear Christopher,
I thought you might be interested in my 1st July experience.
Some weeks ago I purchased one of your beautiful Somme 100 poppy pins from the British Legion. The named soldier whose life it commemorates of course meant nothing to me at the time. However I endeavoured to find out as much as I could about him.
'My' soldier was a certain Private Edward John Bassett of the Devonshire Regiment. His service number was 11980 and he was buried in the Devonshire Cemetery, Mametz. He was 33 years old. Edward, or John as he appears in other records including army records, was born in Torquay but enlisted in Newton Abbot. He was a fishmonger and was single. His mother Georgina was a widow.
We travelled from Birmingham with the War Research Society last Thursday, on their 100 Anniversary of the Somme Tour. We arrived at our hotel at 7.30pm. After dinner it was an early night for us as we were due to attend the 7.28 am Lochnagar Service of Remembrance. Next morning we left our hotel for the security check in Bapaume at 4.30. We were escorted in convoy to La Boisselle and the Lochnagar Crater. Following the moving ceremony we returned to our coach for breakfast in Albert.
Our very experienced tour guide, Jon Nicolls, was a little unsure of the day's itinerary as the exclusion zone was still in place. The Thiepval Service was yet to commence and all side roads were still guarded by the police. However we set off. After a short distance Jon indicated to the coach driver that we should try to turn next right. The police woman guarding the road moved the barrier and allowed us through.
Jon then told us we were going to visit a small cemetery where all the soldiers had fallen on 1st July 1916. It was the Devonshire Cemetery. The soldiers bodies had been retrieved and laid in a mass grave that had been their own front line trench.
The second headstone I read bore the name Edward John Bassett. One hundred years to the day, almost the hour, he was remembered. I was able to place a poppy cross in his memory. I had it with me, expecting to place it somewhere on the Somme on 1st July. Little did I think it would be against 'my' soldier's headstone. My fellow travellers were as amazed as I was at the coincidence! 
Thank you for such a wonderful idea and piece of art work. Your commemorative pin is very special.
Yours sincerely, Jennifer Jones (Mrs)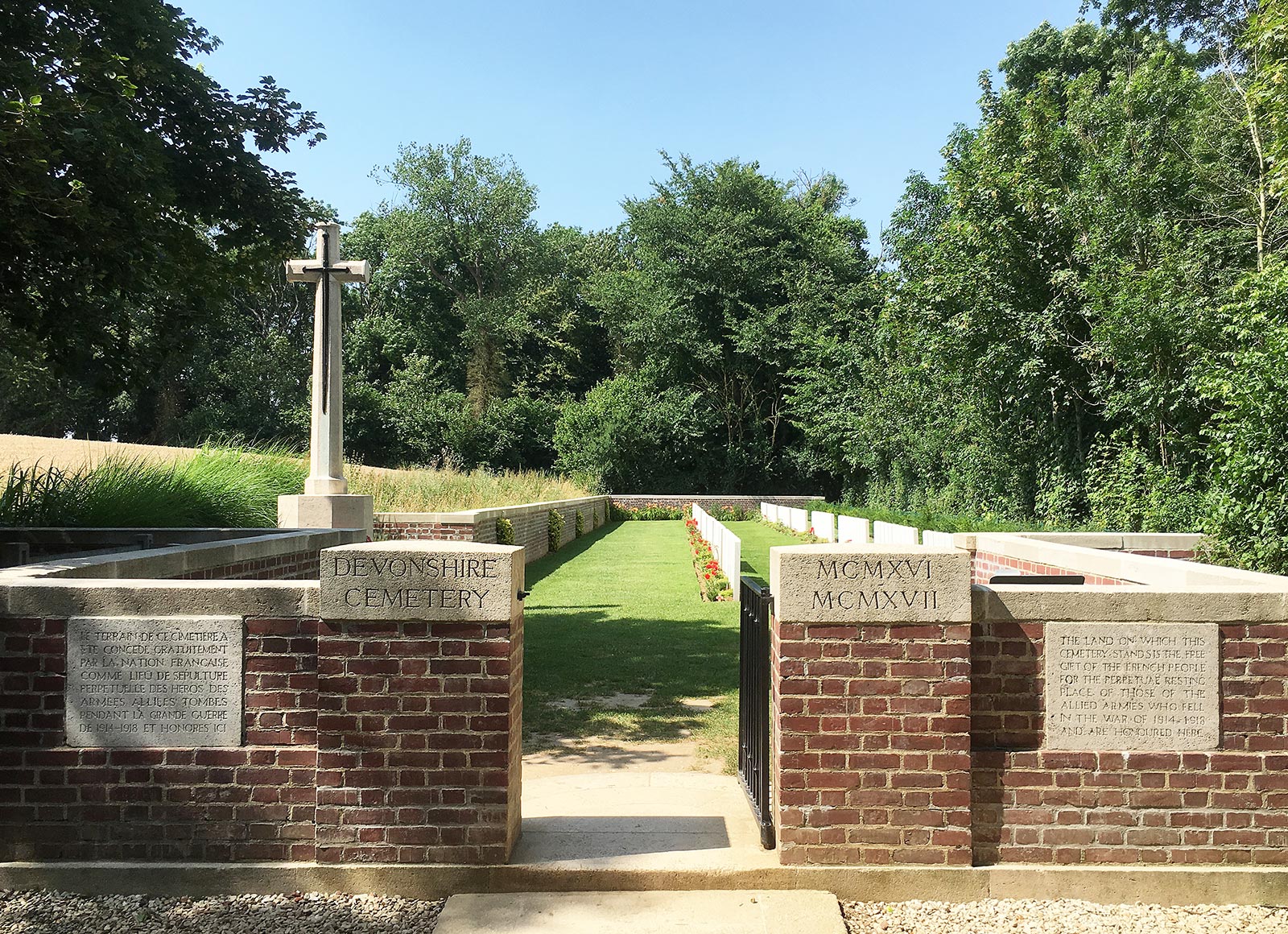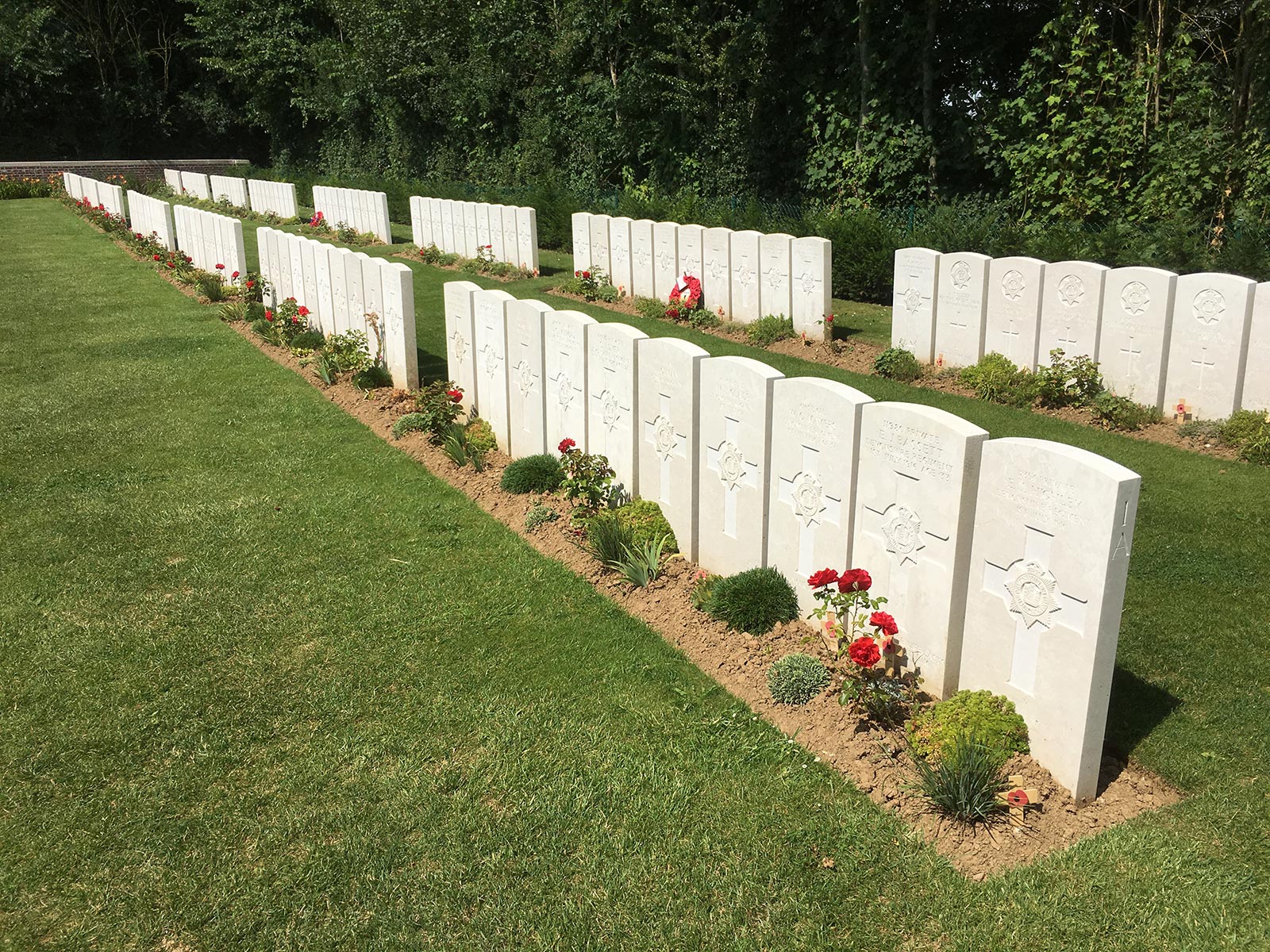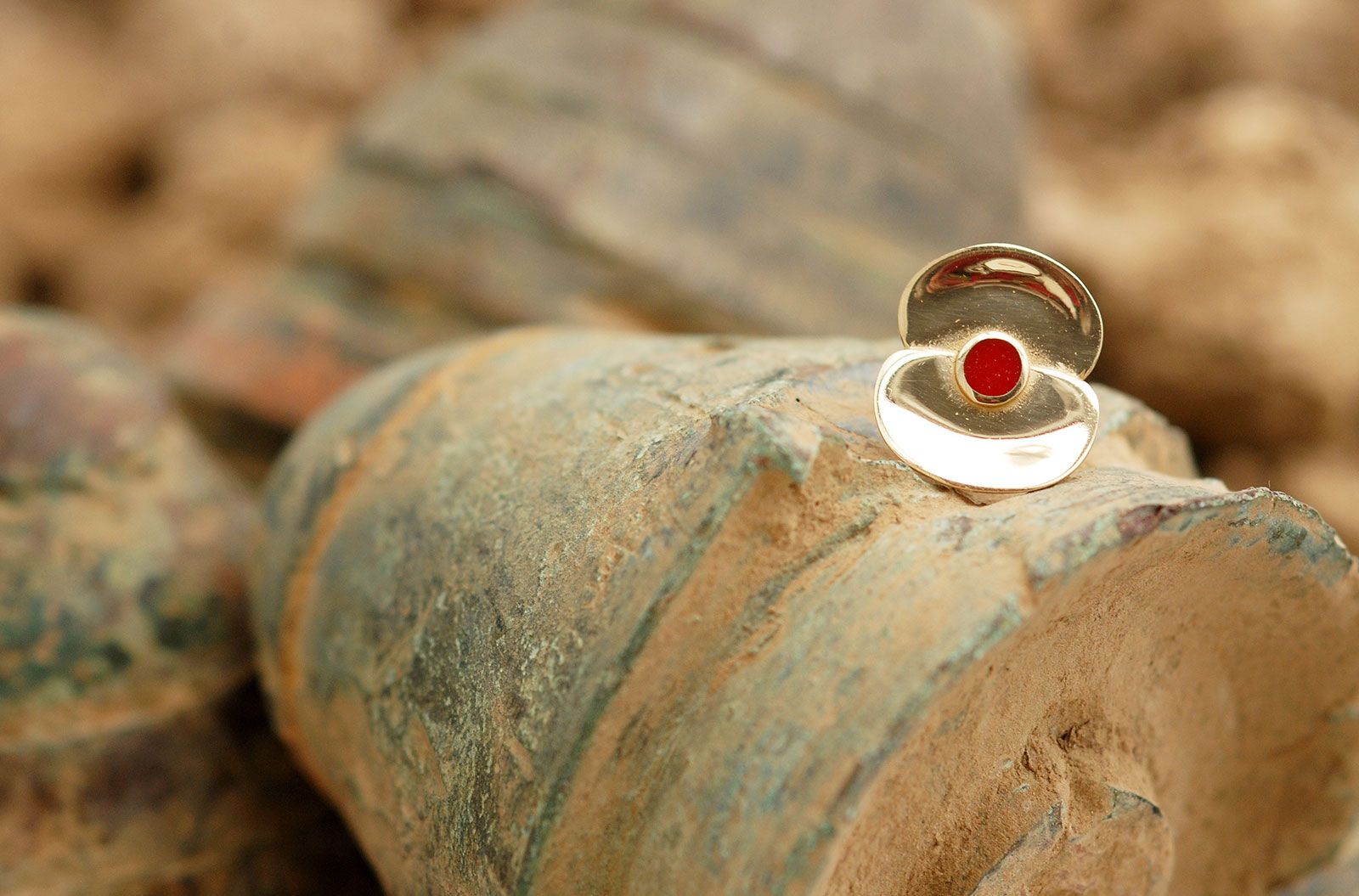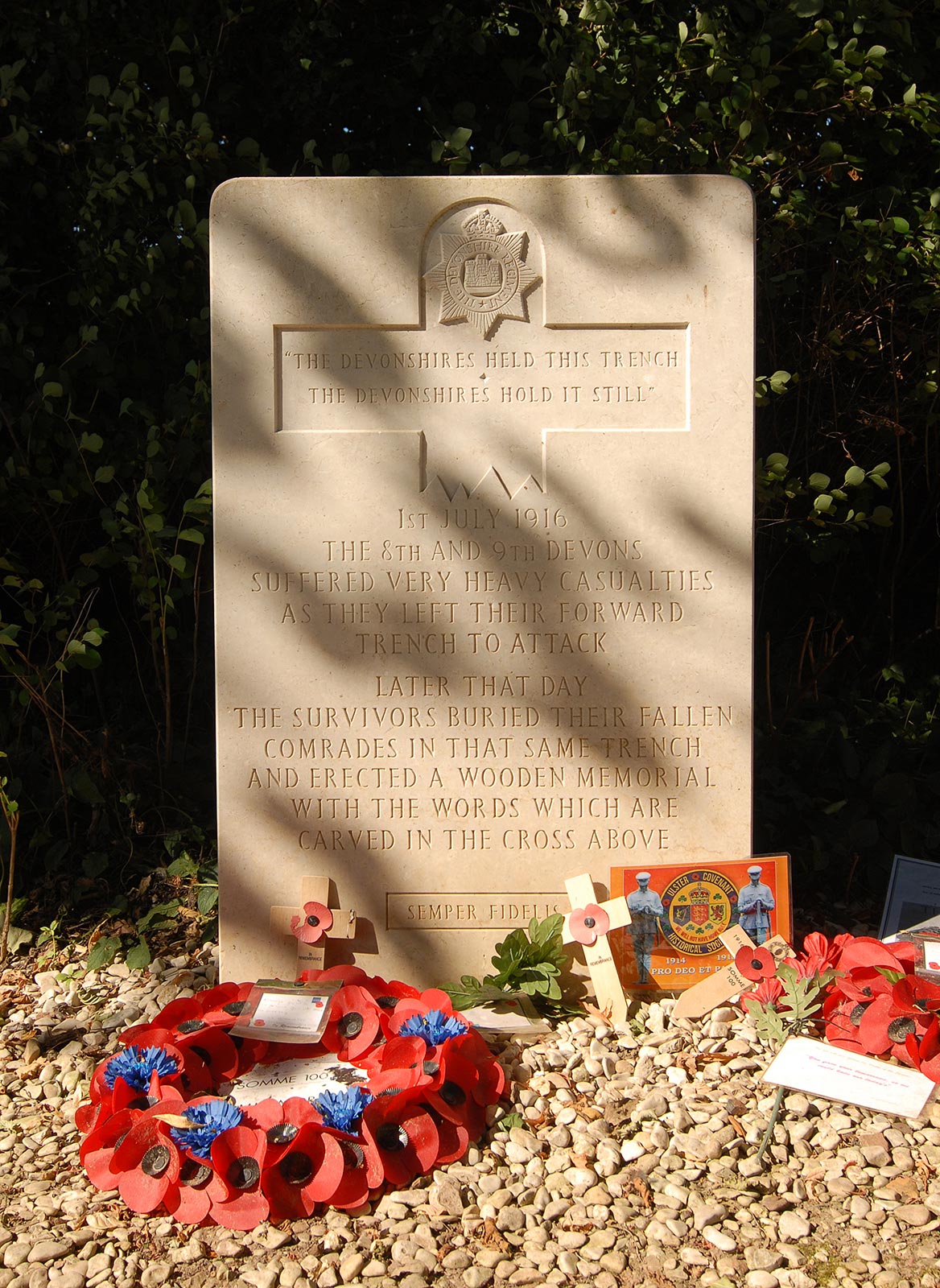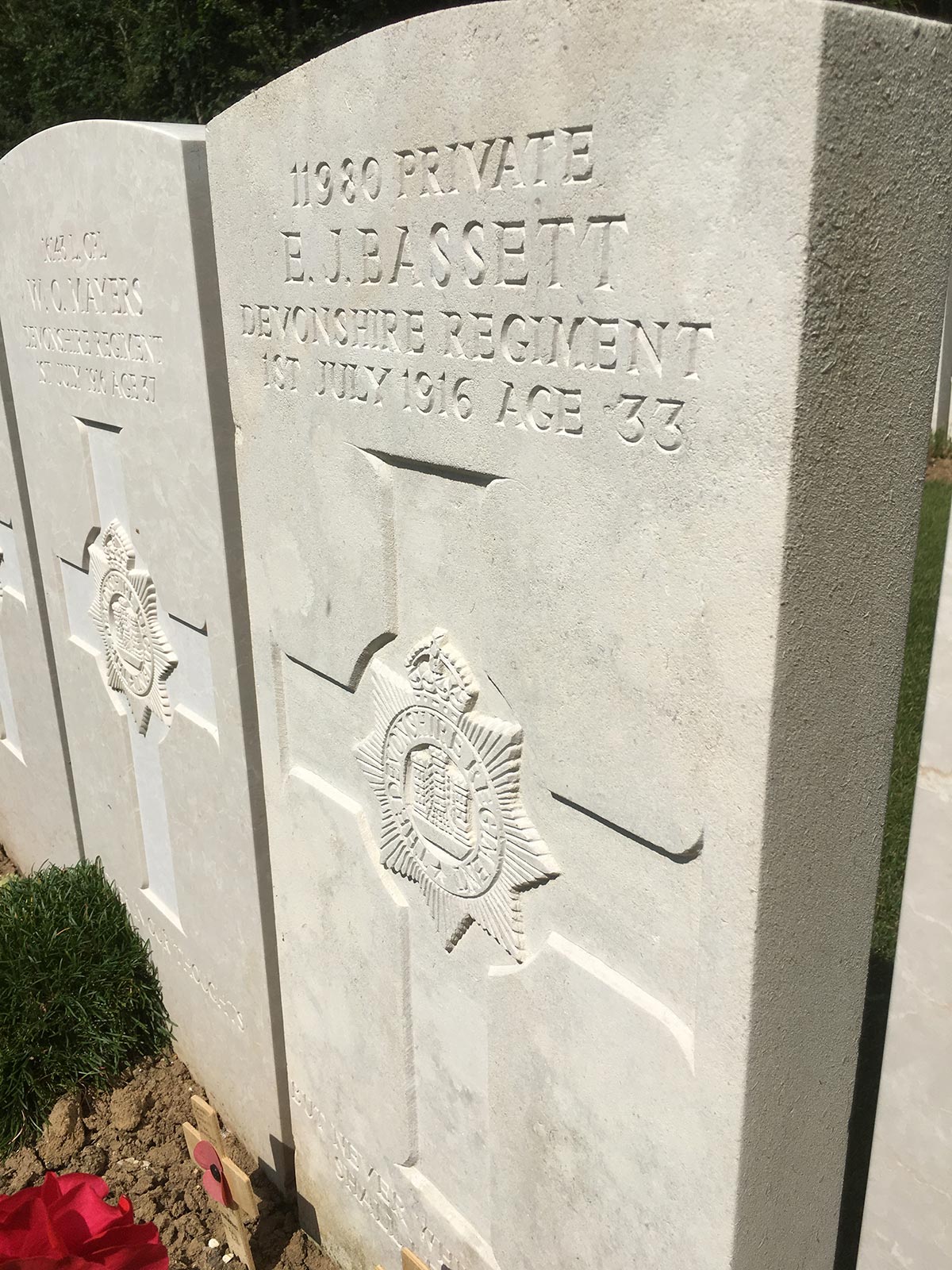 Other letters were from people who valued the pins for what they represented and that they were made of actual battlefield metal with battlefield earth. I received a phone call from a lady who desperately wanted a Somme Poppy Pin, but they were sold out. I had a few spares from their production and sent her one, without a soldier certificate. On receipt I received the note below, which just makes the project for me incredibly worthwhile – that someone can find such profound meaning in a simple art object I was responsible for creating.
Dear Chris
I really don't know quite where to begin. I got home from a very stressful day at work (The Christie, cancer hospital) to find a card in the hall from the Post Office for a delivery, so I went straight there hoping it was the poppy pin, and yes it was!! I opened it with such joy and when I read your letter and the back of the accompanying card saying it was one of the poppies created to honour the fallen of the 1st July 1916 (the day my great uncle Joseph was killed) I burst into tears, again.
I cannot tell you how much this means to me and it is totally priceless. I look at it and not only think of Joseph, but also my dad, Vincent, who sadly passed away on the 6th June this year. He was so proud of his uncle and his own father, Thomas who also fought in WW1. I wish my dad was here to show him the poppy pin.
I wish you would have let me pay for the pin but I thank you for your kindness. I will, however, be making a donation to the Royal British Legion for all our soldiers, past, present and future. I feel so honoured to own a unique piece of our history.
Take care and thank you again, so much.
With the kindest wishes. Jane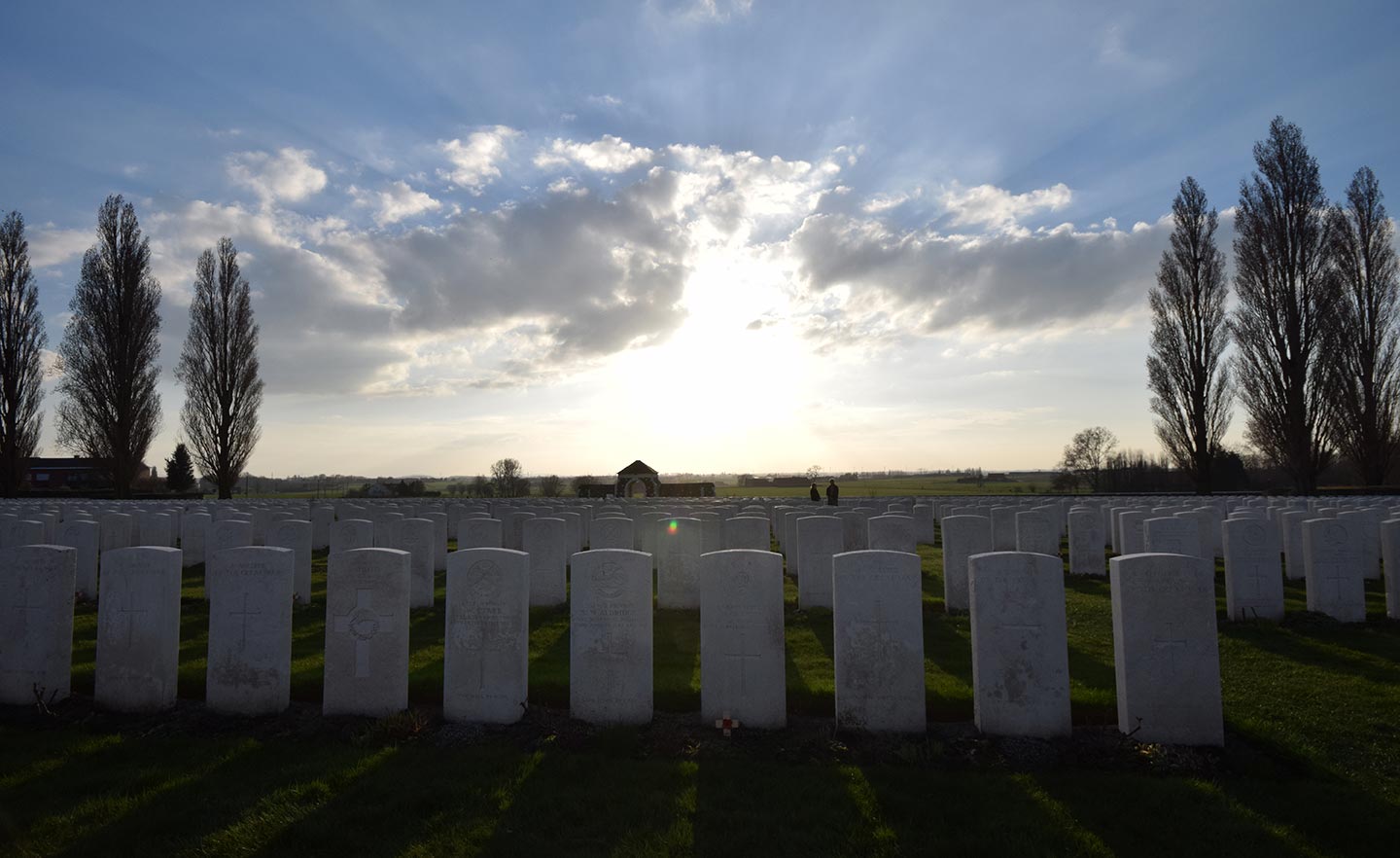 The sun sets on Tyne Cot Cemetery, the last resting place for 11,961 Servicemen, many of whom died in the mud of Passchendaele.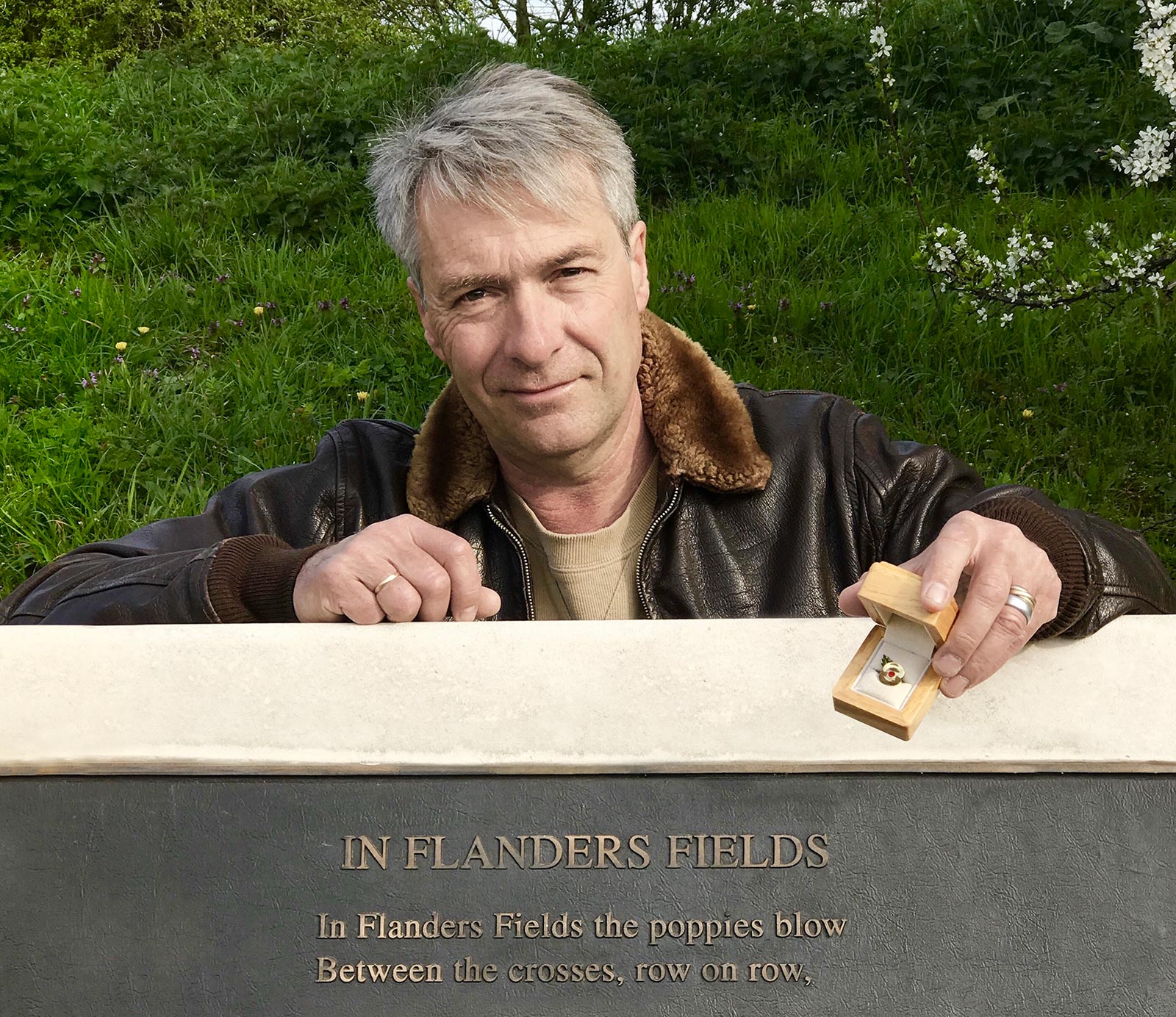 Chris Bennett proudly holds a Passchendaele Poppy Pin at Essex Farm, near Ypres, where in 1915 John McCrae wrote the poem "In Flanders Fields".