350HP SUNBEAM BLUEBIRD
The First Bluebird Land Speed Record Car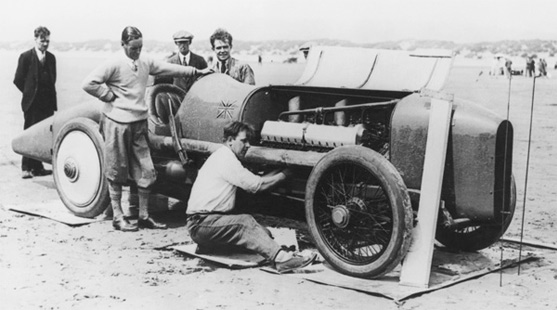 Post World War One motor sport was captivated by a new breed of thundering aero-engine powered cars of which the 350HP Sunbeam was the most famous. Equipped with a Sunbeam 18 litre Manitou engine developing 355 horsepower, the car was built in 1920 for racing at Brooklands and it was here two years later that Kenelm Lee Guinness achieved 133 mph in the Sunbeam, a new land speed record.
Successful gentleman racing driver, Sir Malcolm Campbell, was impressed and borrowed the car to compete in the Saltburn Speed Trials, achieving a new fastest speed 138 mph, although being only a one way run this was not recognised as an official record. Fired with enthusiasm, Campbell purchased the Sunbeam outright in order to undertake a serious land speed record attempt and, having christened the car Bluebird, successfully logged his first three records, culminating in 150mph on Pendine Sands in 1925. The 350HP Sunbeam Bluebird was, ultimately, the actual car that inspired the Campbell family, father Malcolm and son Donald, in their quest for speed records in cars and boats, always painted blue and named Bluebird.
Over the years Bluebird has become both iconic and synonymous with record breaking machines that linked state-of-the-art engineering with human achievement and daring deeds. In tribute to this legendary name, TMB Art Metal are pleased to offer our Bluebird edition of cufflinks, appropriately probably the most spectacular automotive themed links ever created, both in perspectives of design and provenance, the cufflinks made incorporating actual original 'donor' metal from the first ever Bluebird land speed record car.
The Bluebird edition comprises three different designs crafted with a defined 1920's style; the Speed Kings, Pendines and Wheels, each incorporating actual original metal from the 350HP Sunbeam, Sir Malcolm Campbell's first Bluebird land speed record car, to be precise aluminium from one of the original pistons from Bluebird. This set of pistons was made especially for Campbell prior to the 1925 run to increase the compression ratio in an effort to achieve more power and therefore has incredible provenance and a fascinating link to British motoring history.
The 350HP Sunbeam Bluebird is owned and currently being restored by the National Motor Museum and 10% from the sale of the cufflinks goes towards that restoration.