BILL AND FRITZ
Centenary Cufflinks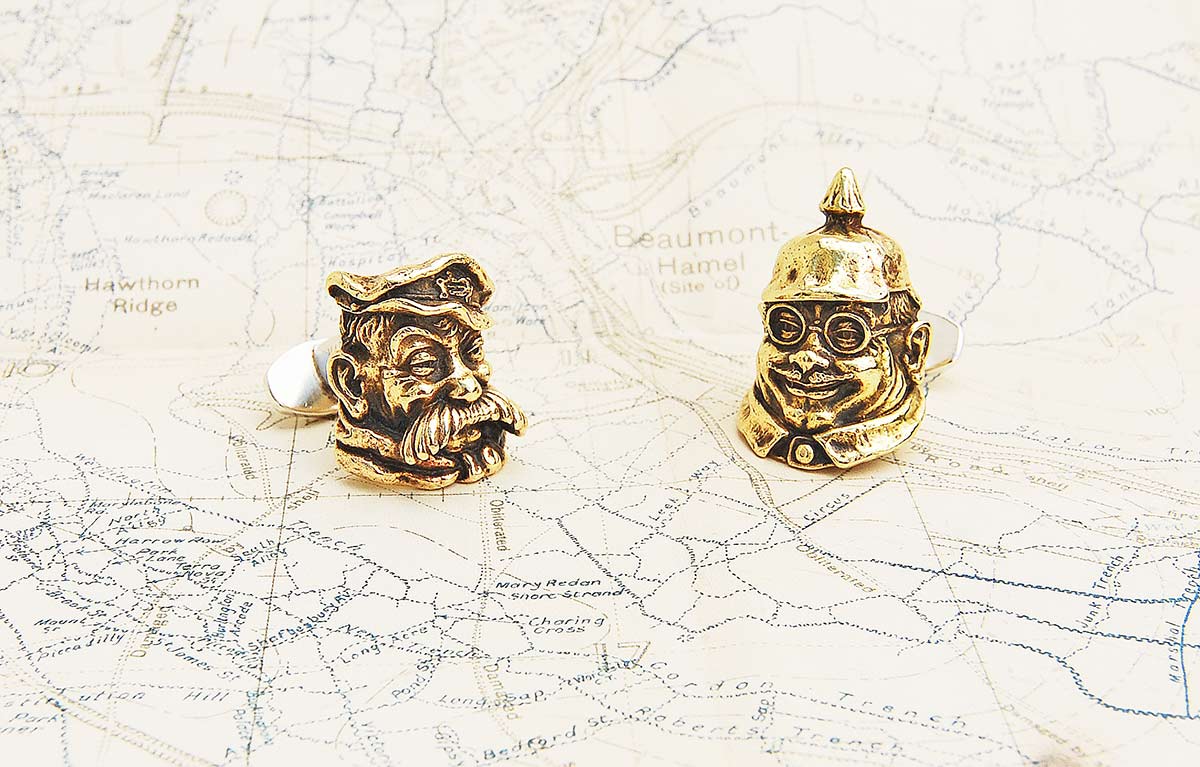 In commemoration of the centenary of The Great War TMB have created cufflinks featuring 1914 period British and German soldiers.
Entitled "Bill & Fritz", the miniatures are three dimensional and display amazing detail, Bill based upon Bruce Bairnsfather's "Old Bill" whilst Fritz is sculpted in a sympathetic style. The masters from which these originate, which involved considerable skill to fabricate, are entirely hand sculpted and thus the finished items are, in effect, pieces of miniature fine art in their own right. Importantly the miniatures are made of original WW1 bronze/brass shell fuze remnants recovered from the battlefields.
Bill & Fritz Aged Finish
Limited to four editions of 100 pairs each, being of bronze there's the option to "patinate" to give different finishes, making every piece truly unique, and we offer four different finishes: "aged" so that the base metal is a golden colour but with darkened recesses; patinated to a green verdigris colour, or patinated to a brown colour. These links are fitted with colour contrasting sterling silver cufflink arms. The final edition is reversed, Bill & Fritz being made of solid silver whilst the cufflink arms are of historic metal. Importantly the patinated versions, which are done by one of the UK's leading bronze patinators, will in time wear, this natural aging process adding to their character.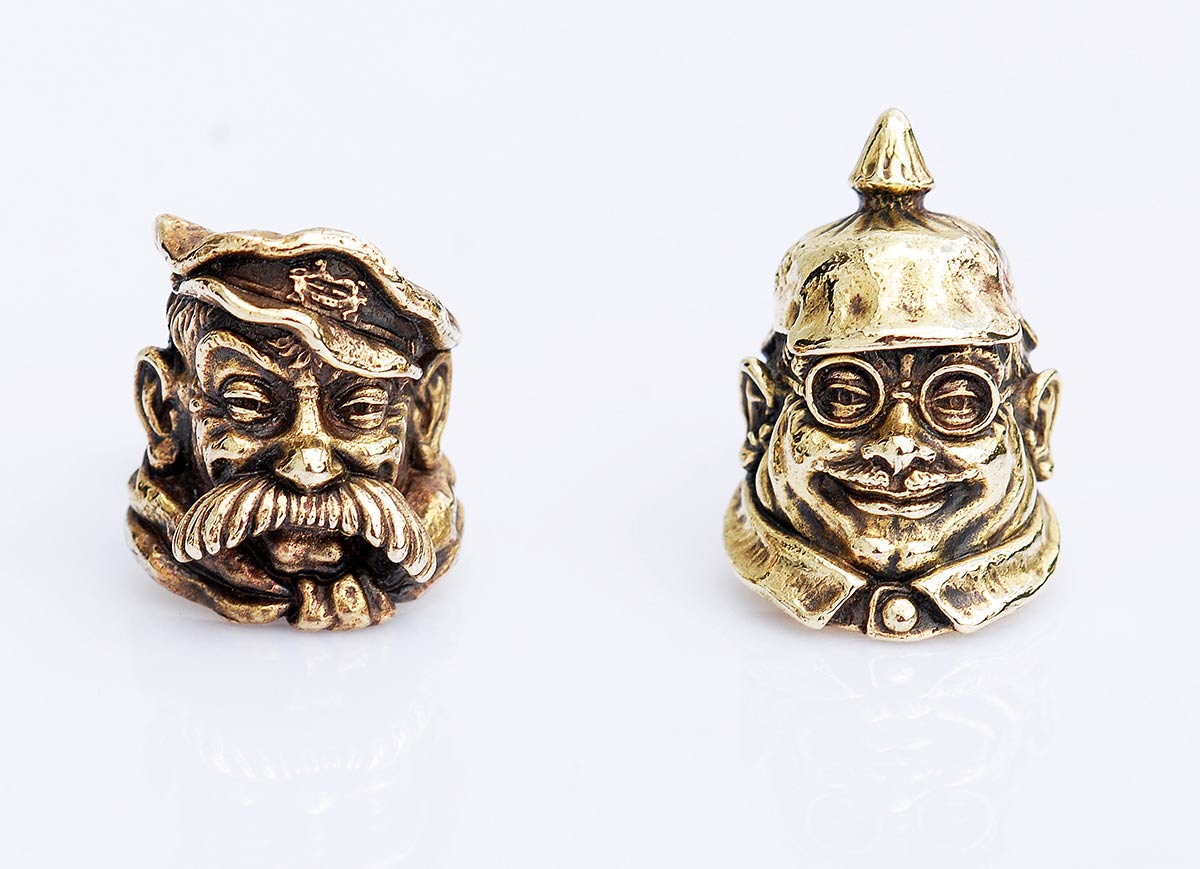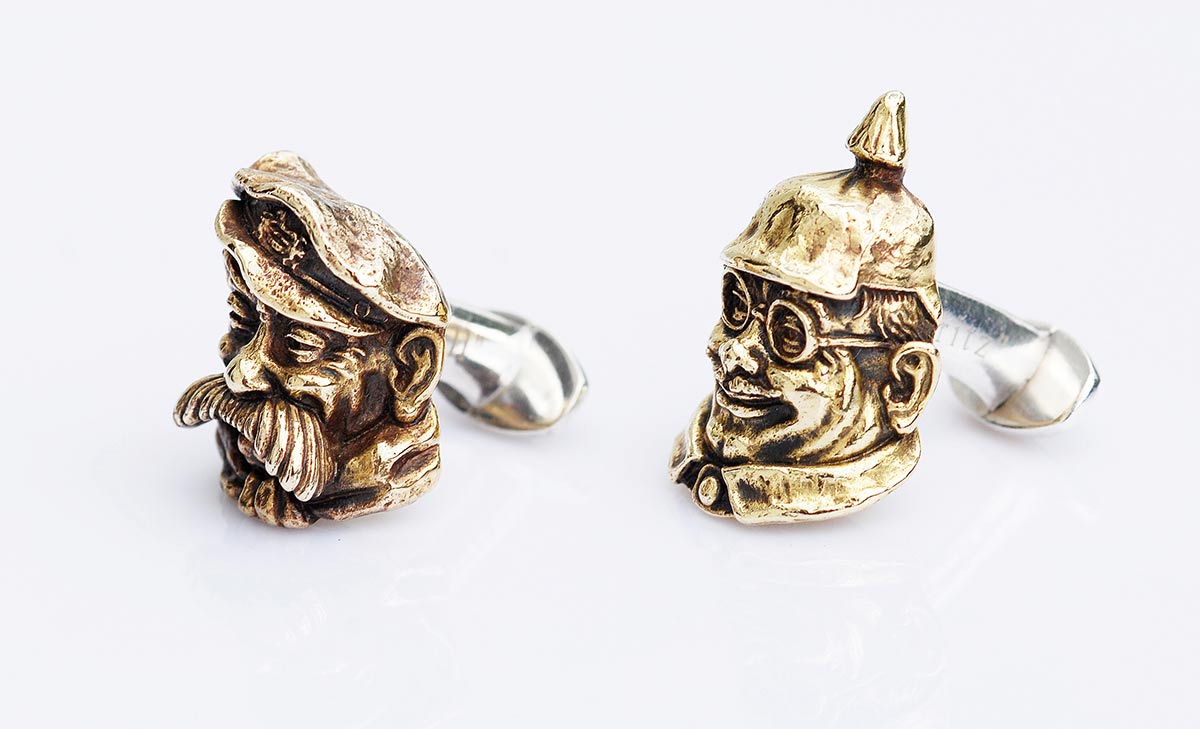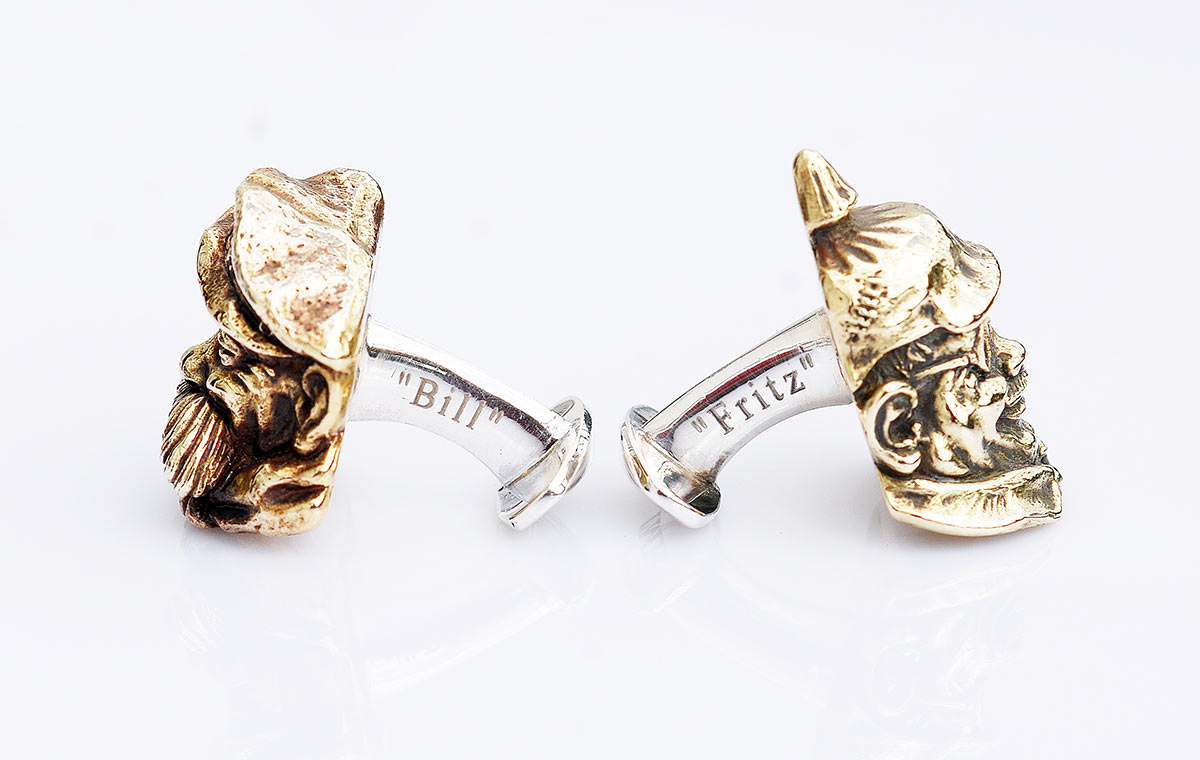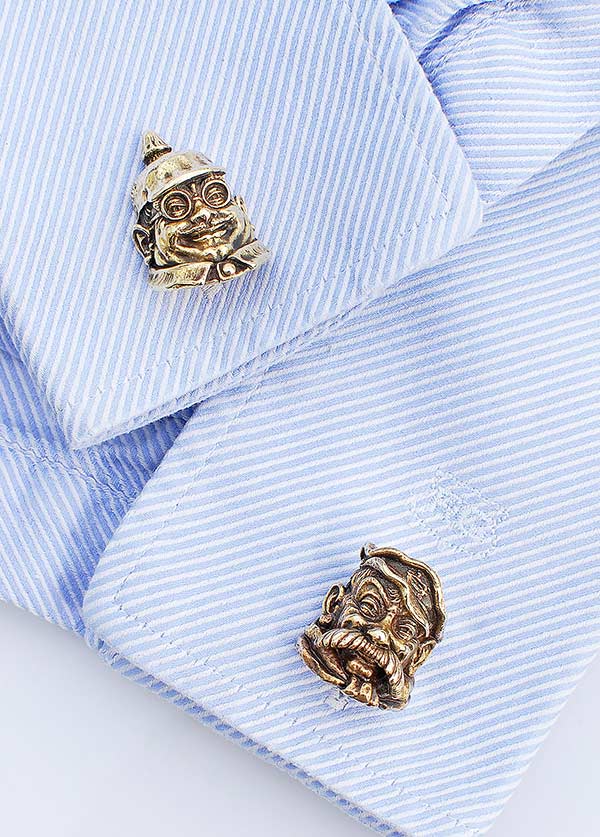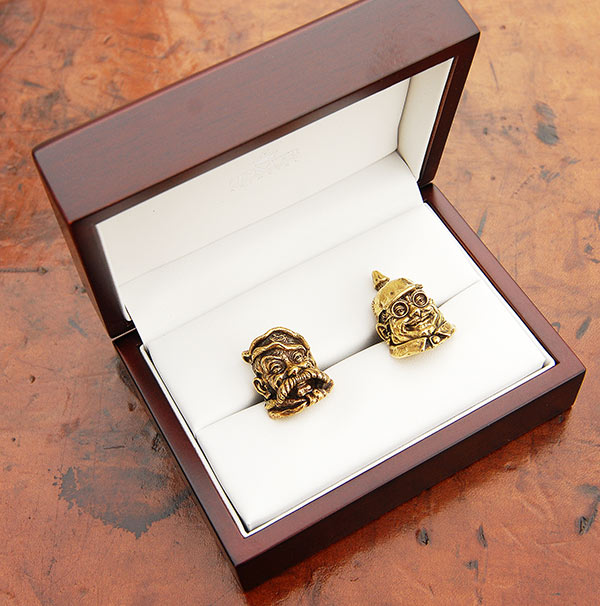 Bill & Fritz Green Patination
Collectable pieces of wearable art sculpture made of WW1 history, these cufflinks are surely the most spectacular of their kind ever created. Presented in a high quality wooden case with 8 page gatefold booklet/certificate outlining the designs, the provenance metal and making of the links. Limited to 100 pairs each finish, priced at £395 per pair including postage. Click on the "Inspiration & Provenance" button at the bottom of the page for images depicting how the designs came about and the historic metal of which they are made.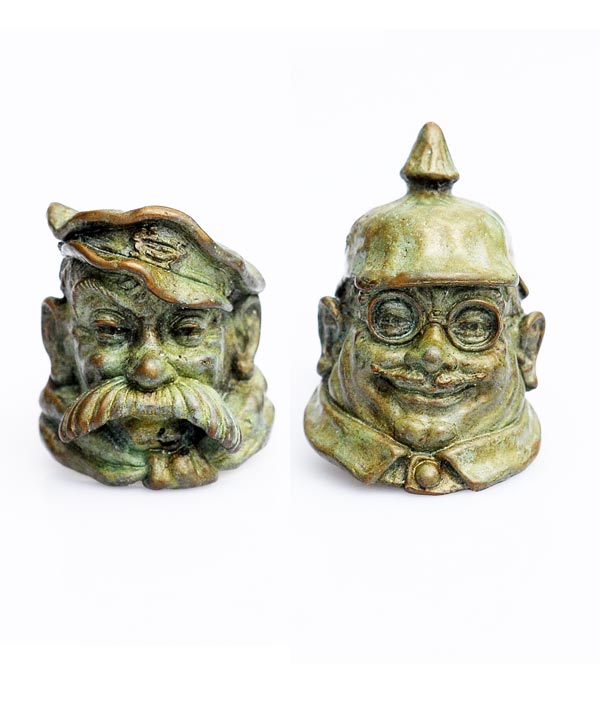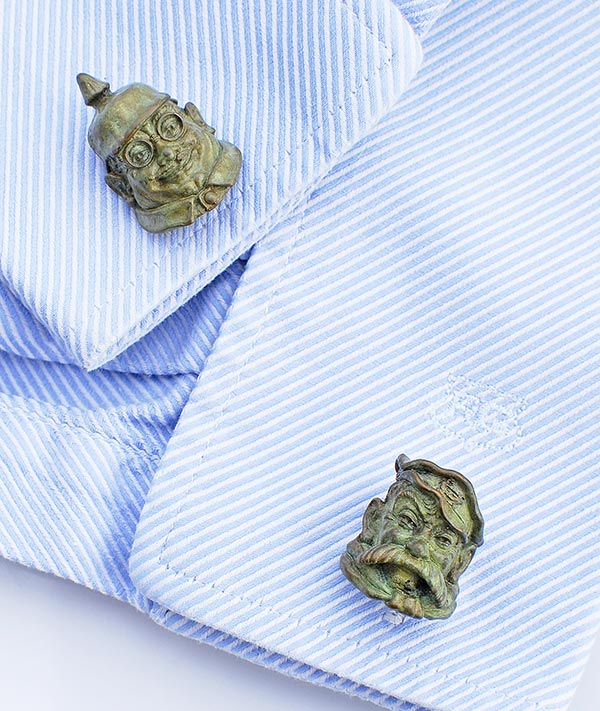 Bill & Fritz Brown Patination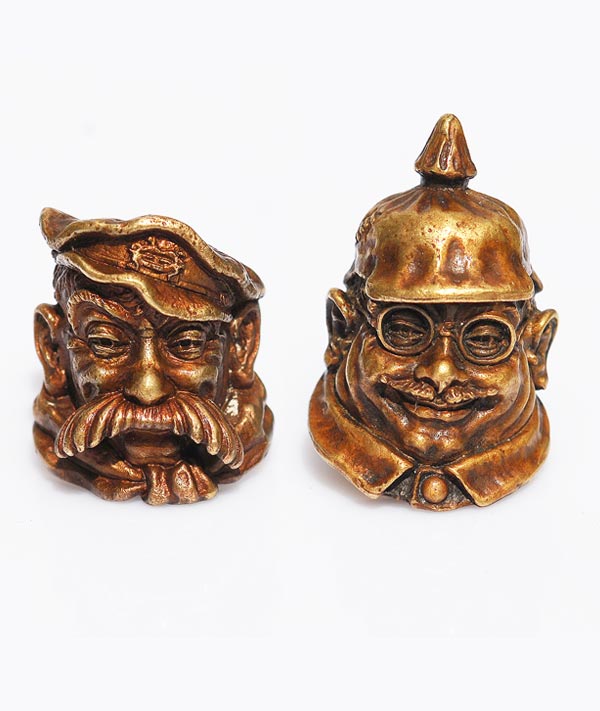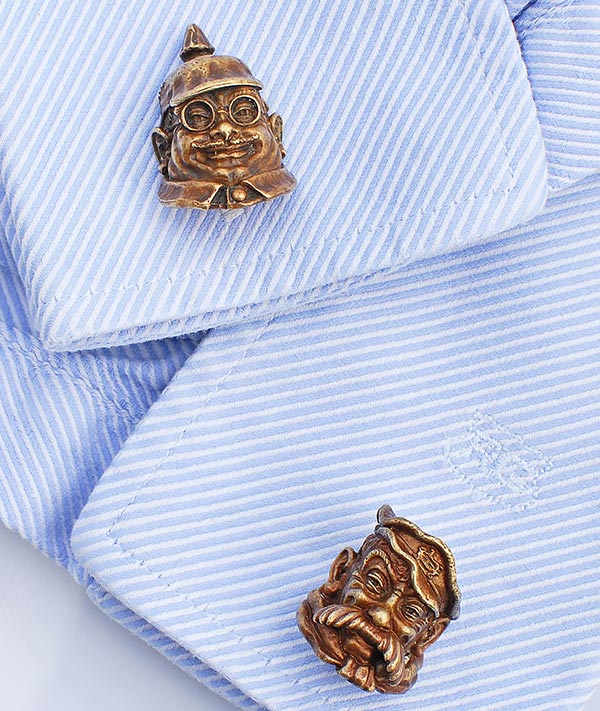 Bill & Fritz Silver with Bronze
For those who prefer a white colour, this final version is reversed, the Bill & Fritz characters made of solid silver with cufflink arms of shell fuze metal. Limited to 100 pairs with certificate of provenance card, priced at £395 per pair including postage.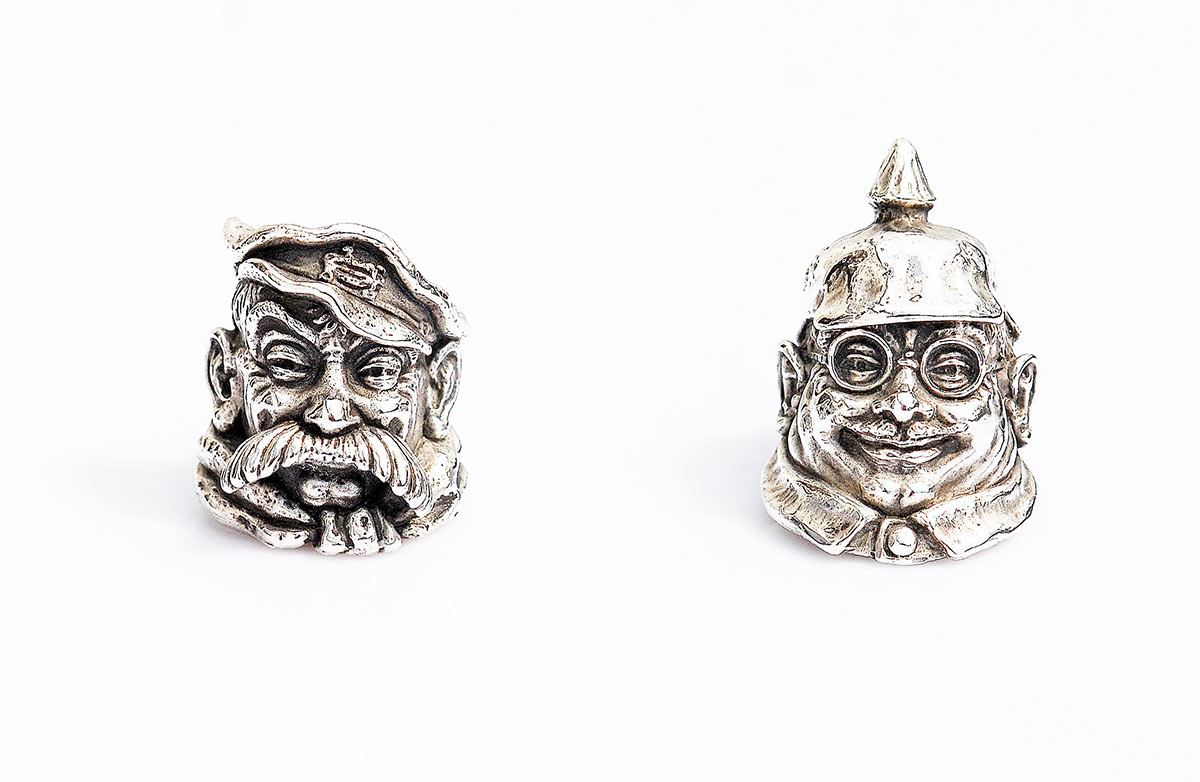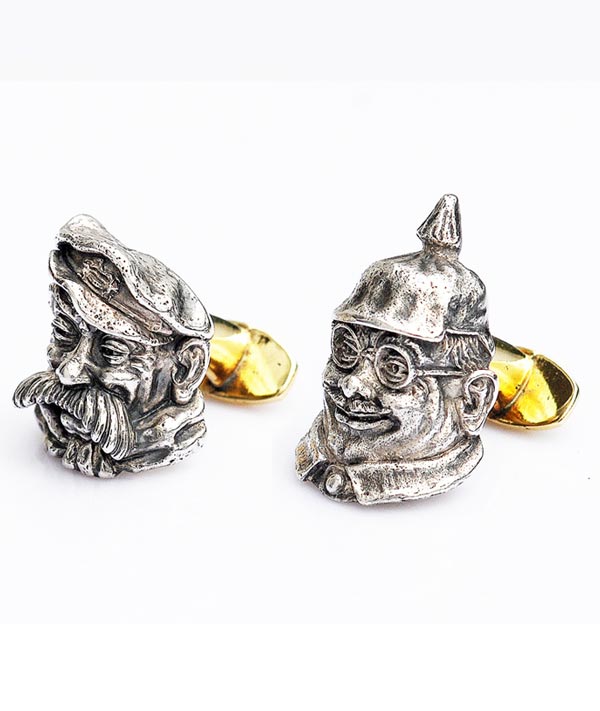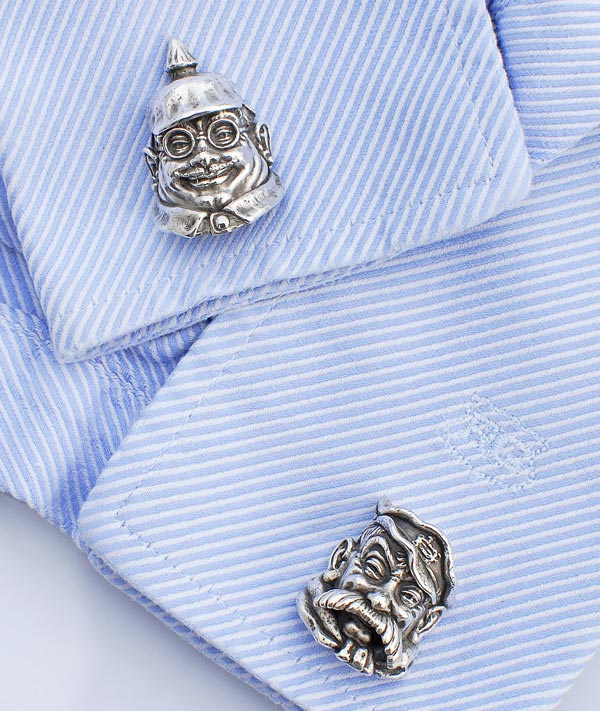 Key Points
The characters are 1914/1915 period, when the British wore soft "Gor Blimey" hats (pre-tin helmets) and the Germans Pickelhaube spiked helmets, which at the Western Front were cloth covered.
The sculptures have been executed in the style of artist Bruce Bairnsfather who created the "Fragments From France" magazine and its character "Old Bill". Fragments was welcomed by the men in the trenches, serving as a wonderful tonic, alleviating both the horrors and the boredom of their harsh world. Our Bill is styled closely upon Bairnsfather's Old Bill, whilst Fritz has been based upon other characters from Fragments in the style of Bairnsfather.
The miniatures exhibit a jovial feel – they are regular private soldiers, just ordinary men who didn't want to be there, but made the most of it. The German character in particular makes you smile!
As a silent tribute, Bill's tiny cap badge is that worn by sculptor Stephen Allen's grandfather, Alfred Stead, who fought from 1914 to 1918 with the West Yorkshire Regiment (see below).
Bill is cast in British shell fuze metal whilst Fritz is in German, using remnants recovered from the battlefields in 2014 at Beaumont Hamel, Somme.
Each Bill and Fritz is created entirely in England using lost wax casting, an ancient method employed to make the best jewellery and art sculpture. It's a painstaking process, every Bill & Fritz taking considerable time to create, being fettled, polished, patinated and finished entirely by hand, no two exactly alike. These are miniature pieces of fine art sculpture – wearable art works.
Being chunky and made of bronze and silver the links are weighty. It adds to the fun that they are a dissimilar pair, so that when a link get's commented upon the wearer can reveal its companion. The fact that they're made of circa 1916 British and German battlefield debris will give the final "bragging rights".
As with larger fine art bronzes, Bill & Fritz can be patinated to give different finishes, making each piece even more individual and unique. We offer four different variants: polished bright to a rich golden colour with aging; patinated to a mid old bronze brown, patinated to a verdigris green colour and, finally, an edition in sterling silver with the provenance aspect being infused by making the cufflink arms of shell fuze.
The Sculptor
Stephen Allen honoured his grandfather, Alfred Stead, by creating for TMB two beautiful sculptured cufflinks, "Bill" and "Fritz". The miniatures are designed in the spirit of characters created by Bruce Bairnsfather, but Bill is extra special to Stephen as he has sculpted his grandfather's West Yorkshire Regimental badge onto Bill's cap in Alfred's memory.
Alfred Stead, Stephen's grandfather, was a Lance Corporal in The West Yorkshire Regiment, volunteering in August 1914 and drafted to France in October that year. Alfred fought in the Battles of La Bassée, Ypres, Neuve Chapelle, Loos, the Somme and Cambrai, but on the 24th March 1918 was severely wounded by shrapnel. After lying in a shell hole in No Man's Land he was eventually rescued, but his left leg had to be amputated. Alfred was invalided home and discharged in June 1918.
Stephen said: "Because I am so very proud of my grandfather I've spent a lot of time and poured a lot of love into these miniatures, and with them being cast from metal taken from the earth of the very battlefields my grandfather actually fought over makes them even more special to me; more special than any words can say."