PISTON CLOCK
Junkers JU88 Jumo
This huge and very spectacular Piston Clock features a beautifully engineered Junkers Jumo engine piston and connecting rod originating from a World War Two vintage German Junkers 88 bomber aircraft.
Unfortunately the provenance isn't certain on this piece but the piston/rod are believed recovered in 1941 during the Blitz. Whilst this can't be verified, its superb condition certainly is in keeping with it being recovered at the time rather than from a subsequent excavation. The overall condition is amazing, with very little rust or corrosion, the only real exception being what appears to be some old pitting on the back of the piston.
The conrod itself is the best we have ever seen with a superb chrome like shine to it (the Germans must have used very high quality steel!) and still exhibits clearly its lightly engraved Junkers trademark plus serial number. There are two 'pegs' inserted into one side of the piston wall which appear to fill holes and assume it once had an engraved plate or similar attached. The plugging of the holes has been very well done and is in no way detrimental visually to the piece.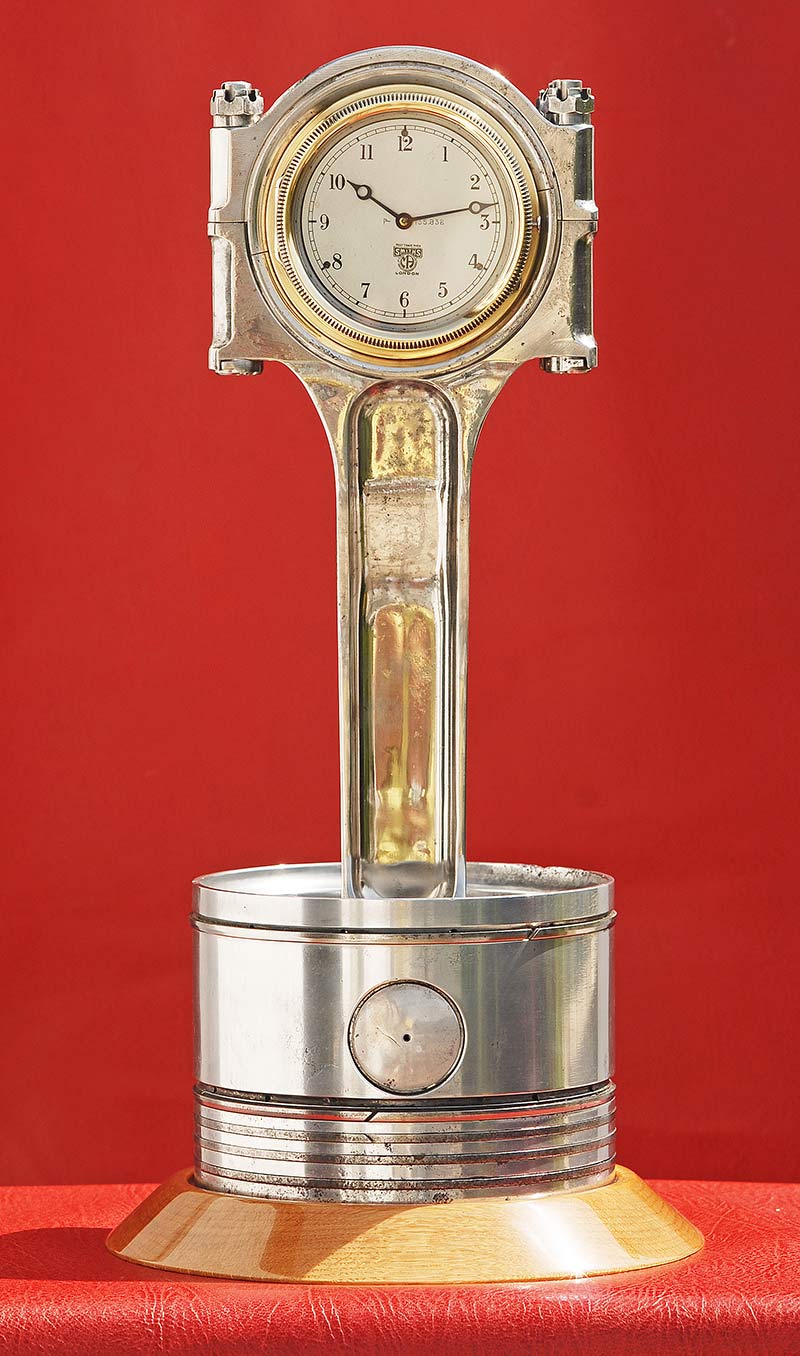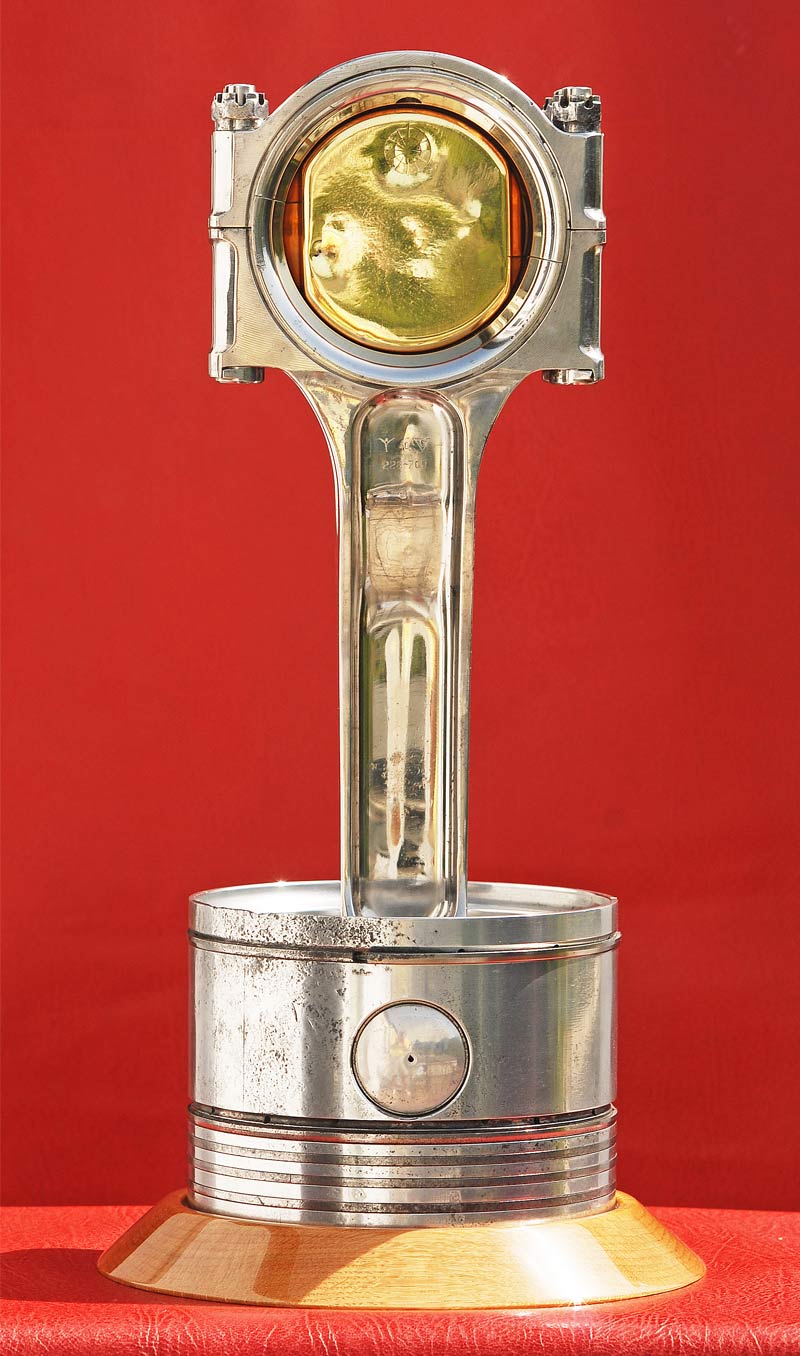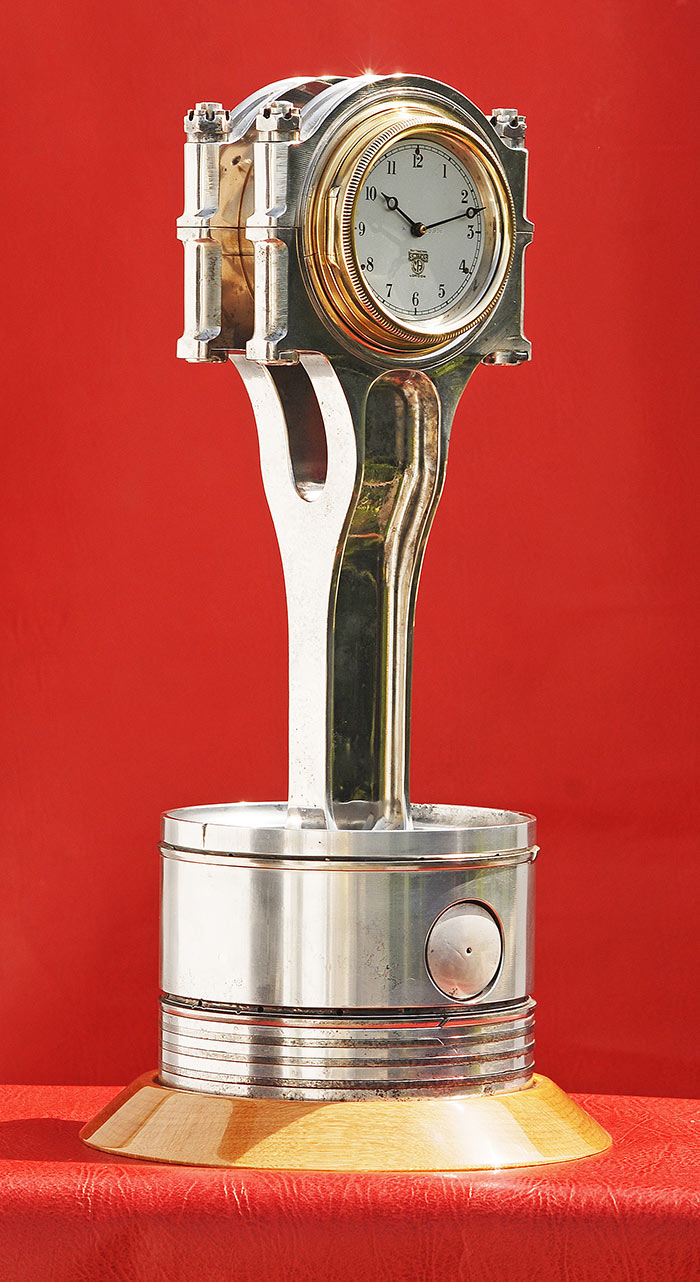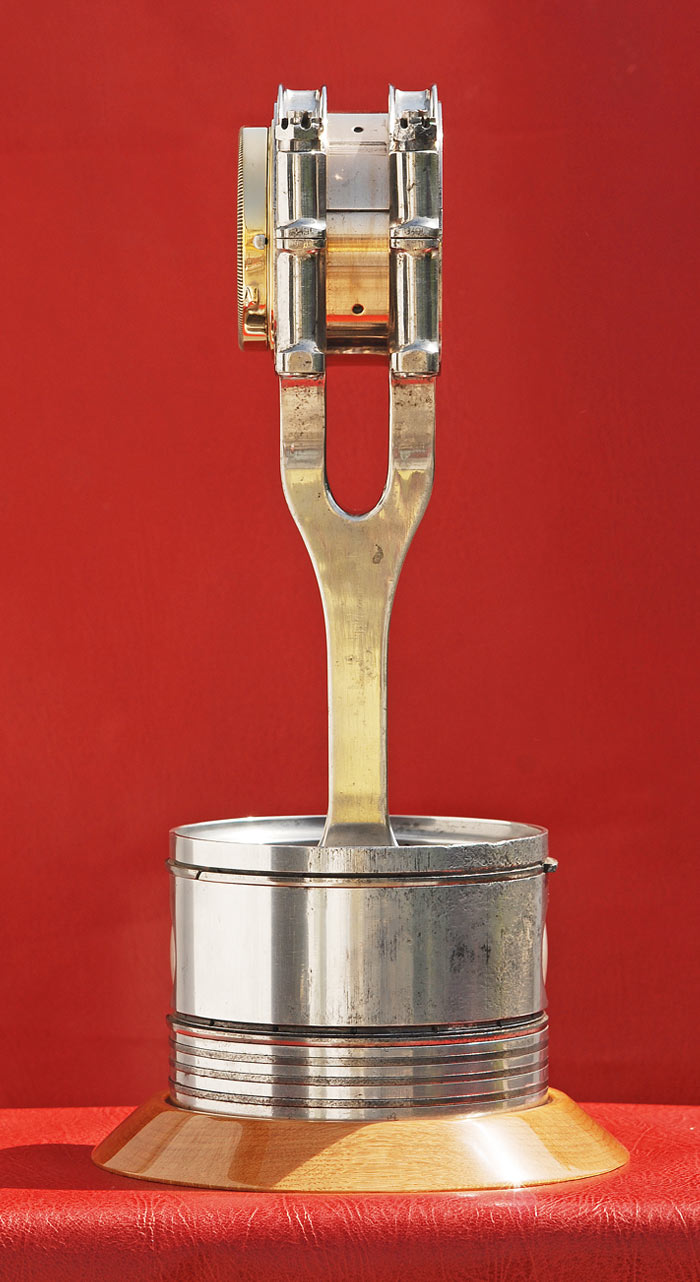 The clock itself is a circa 1930 British made Smiths car clock within brass case, these period clocks having the perfect style, plus size, for the purpose. The golden colour brass bezel and purposefully engineered mounting collar contrast beautifully against the silver coloured steel conrod and aluminium piston. We should state that the accompanying pictures in no way do the piece justice, the shine of the steel conrod, in particular, being difficult to replicate in photographs.
It must be emphasised this is a unique one-off piece, Jumo pistons and conrods like this being incredibly rare, such that it may prove impossible to ever produce another similar one in the future.
The Junkers Jumo engine was a huge 35 litre, twelve cylinder, inverted V engine which, alongside the Daimler Benz 601, was the German World War Two equivalent of the British Rolls-Royce Merlin. The engineering on the conrod is absolutely amazing and it is bigger than the Merlin counterpart, this piston and conrod weighing 7.5kg and measuring just over 15" in height.
The addition of the period clock has turned what would otherwise purely be a highly desirable collectible into a useable artefact – a desk clock that very effectively combines function with history and form, guaranteed to gain comment from anyone who sets eyes upon it. And, once commented upon, there's the fascinating background story to tell!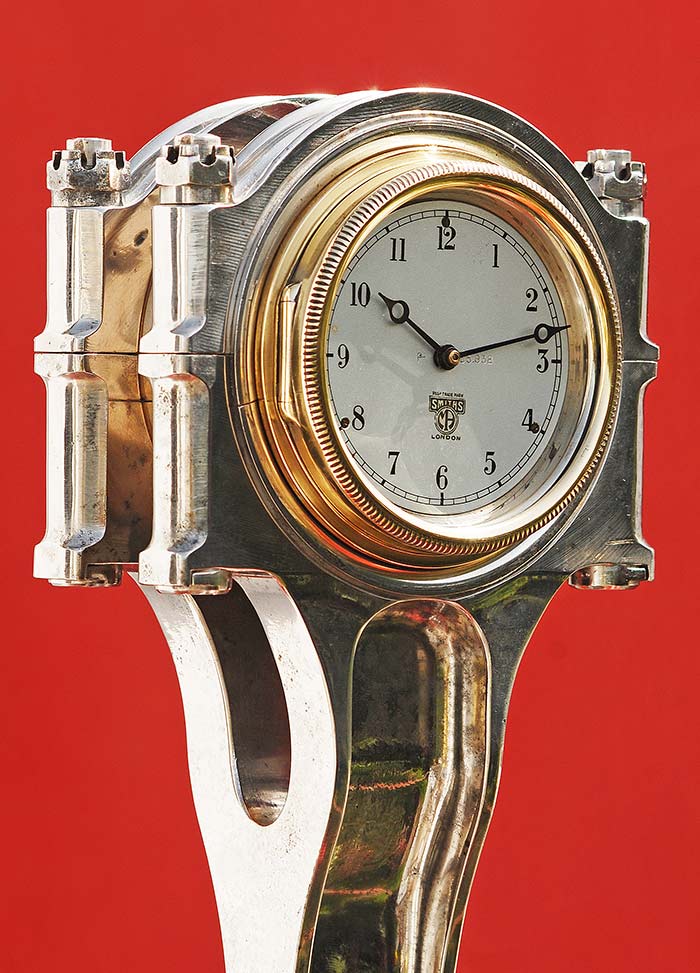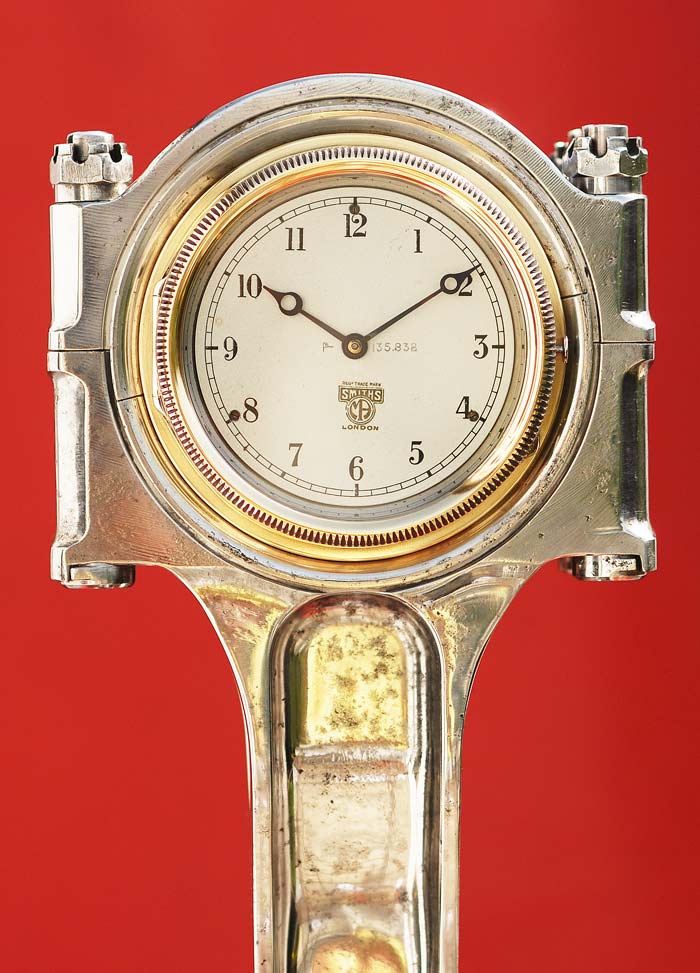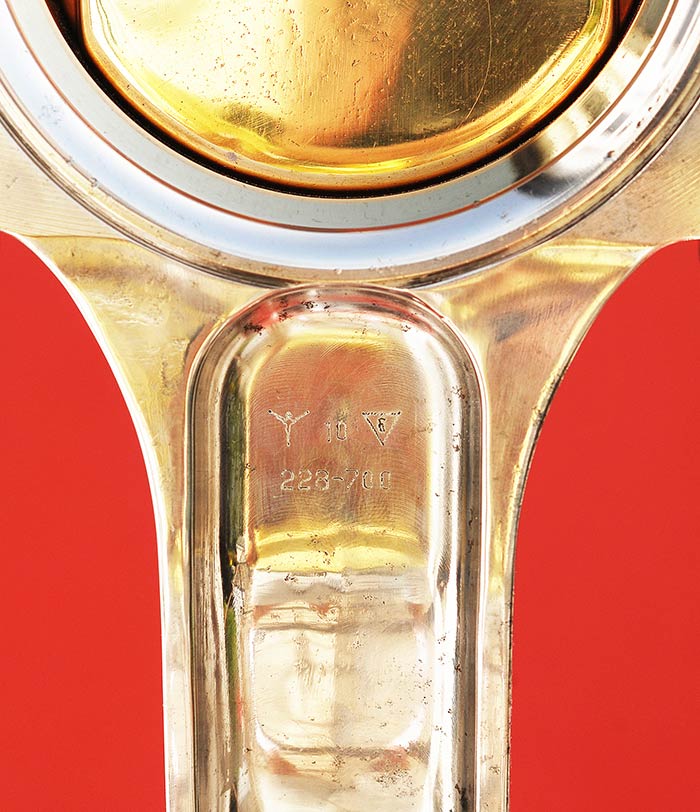 To finish the piece off the piston sits upon an ultra-high quality turned oak plinth, this light coloured wood complementing visually the silver colour of the aluminium piston and conrod.
Price: Please Enquire For Details