FERRARI 250GTO 3527GT
GTO From GTO Edition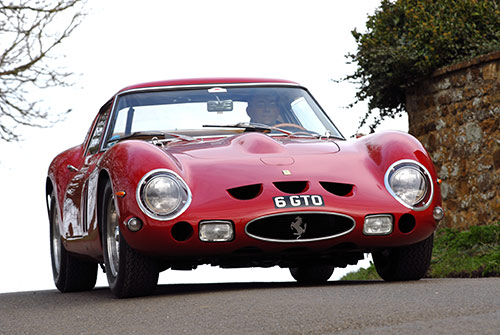 In tribute to the most famous, iconic and valuable Ferrari in the world, the 250GTO, TMB have created a selection of limited edition GTO From GTO products made of actual material removed during the restoration of an original early 250GTO.
The 'donor' material from which our products are made originates from 1962 vintage GTO chassis number #3527GT, the seventh example built, which bears the British registration plate "6 GTO". Following a change of ownership 3527GT underwent restoration in 2005/6, during which a small quantity of excessively corroded or damaged original exterior body panel sections were removed together with the car's brake piping and old leather interior. From this very material we have produced a selection of four products, namely the Essence of Form cufflinks, Spinner cufflinks, GTO Wallets and GTO Keyfobs.
Arguably the most famous car in the world, the Ferrari 250GTO has certainly become one of the most sought after cars in the world with a consequential price to match, an example reputedly changing ownership in 2018 for a record £50,000,000. Whilst at that value only a few of the most wealthy individuals in the world can consider ever owning an original GTO, for considerably less one can wear the DNA of a GTO through our spectacular cufflinks, or use one of our incredibly scarce wallets made of ex-GTO leather. Surely the perfect gift for the Ferrari loving gentleman!
In each product menu click on the "View Gallery" button to reveal further images of Ferrari 250GTO #3527GT and on "Provenance" to view images of the donor material and the item's crafting.