HRH DB6 VOLANTE
HRH The Prince of Wales' Aston Martin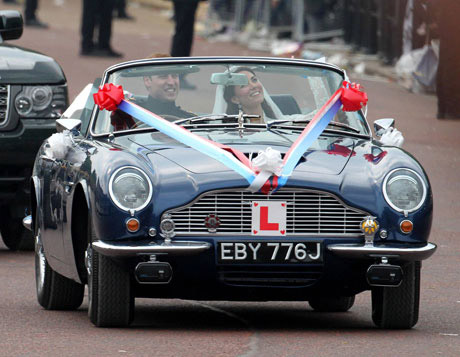 Not many gentlemen can claim that their cufflinks are made of the future King of England's prized Aston Martin!
But now they can…
In conjunction with HRH The Prince of Wales' charity, the Princes' Trust, TMB Art Metal are privileged to have produced two editions of cufflinks crafted involving original metal from Prince Charles' Aston Martin 1961 vintage DB6 Volante.
Bought new by Her Majesty The Queen as a 21st birthday present, the car has been owned by HRH The Prince of Wales ever since. Most of us are aware of Prince Charles' strenuous view on environmental matters and, alongside this, he had the car converted recently to run on biofuel, the conversion work being done at world renowned Aston Martin restorer R S Williams. Part of this conversion process involved removing the original aluminium pistons and steel connecting rods and it is 'donor' metal from these pistons that our cufflinks incorporate in their making. We'd like to think that our recycling of these old, otherwise useless and redundant components into new items would be a undertaking close to His Royal Highness's heart!
Prince Charles' Aston DB6, which bears the registration plate EBY 776J, was centre stage and seen my millions around the world on 29th April 2011, during the wedding of the Prince's eldest son, Prince William to Kate Middleton at Westminster Abbey, the royal couple using the car for their getaway.