CONCORDE FROM CONCORDE
Sculpture and Essence of Form Cufflinks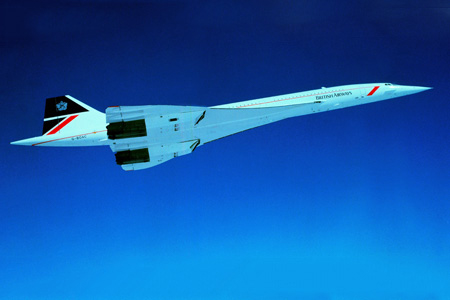 Concorde is an amazing world recognised design icon and one that has never dated. Indeed if she were launched upon the public for the very first time today she'd look state of the art and totally modern, even though the design is nigh on forty years old! In tribute to this most recognised and famous of all aerial icons, we have created a collection of cufflinks and sculptures incorporating actual original metal from an operational ex-Concorde rudder and therefore made of Concorde.
Acquired from British Airways, official records state that the rudder, which was made in 1976 as one of the original contracted components and bore the serial number "VW23", accrued a total of 10,861 flight hours and 3,724 landings upon three different Concorde aircraft, namely G-BOAG, Concorde flagship G-BOAC (10,000+ hours) and G-BOAB, between 1977 and 1992.
Using "donor" metal recycled from the rudder we have produced three editions, namely two of cufflinks, one supported by gold and the other silver, and a beautiful edition of 19" long sculptures.