SPITFIRE
Spitfire Rib 16 Aerofoil Case
Designed around a section of Spitfire's wing leading edge mid-way along at 'nose-rib 16', our Spitfire Rib 16 Aerofoil Case is one of the most visually spectacular brief cases ever created. Beauty is more than skin deep, though, and the really special feature is that these cases incorporate original Battle of Britain 1940 Duralumin Spitfire skinning in their construction, removed from Spitfire P7350 during this historic aircraft's restoration in 2008. Owned and operated by the Royal Air Force's Battle of Britain Memorial Flight, P7350 is the oldest operational Spitfire in the world, first flying in August 1940 during the height of the Battle of Britain.
Entirely hand engineered, this is a limited edition of just 12 brief cases only, plus initial prototype, each case made specifically to order. The door and lower door sections, plus ancillary plates and handle fixings etc are of ex-Spitfire P7350 skinning, the integral leading edge / rear of case panel being of modern Duralumin.
Illustrated is case 01/12 which has been lined with burgundy leather, but as each will be made to order they can be personalised individually, with choice of leather and interior finish. The exterior side panels on this case are in black leather, which works very well indeed visually, contrasting beautifully against the silver coloured Duralumin ribs.
An amazing fusion of art and engineering and of form with function, the Spitfire Rib 16 Aerofoil Case is surely one of the most spectacular cases ever created, with unique Battle of Britain Spitfire provenance built in.
This is a limited edition of just twelve pieces only in brief case format, plus initial prototype.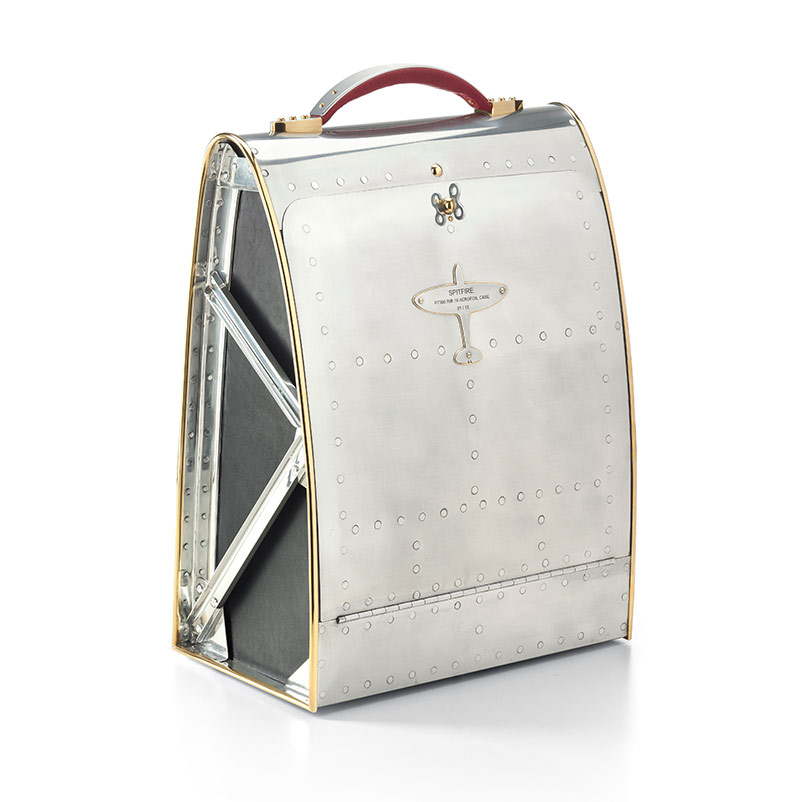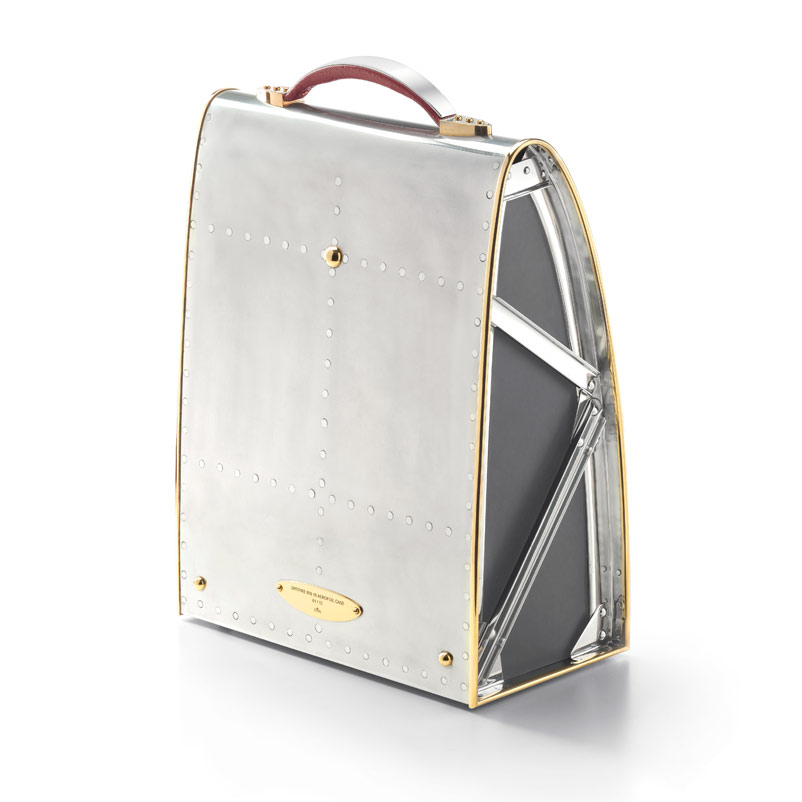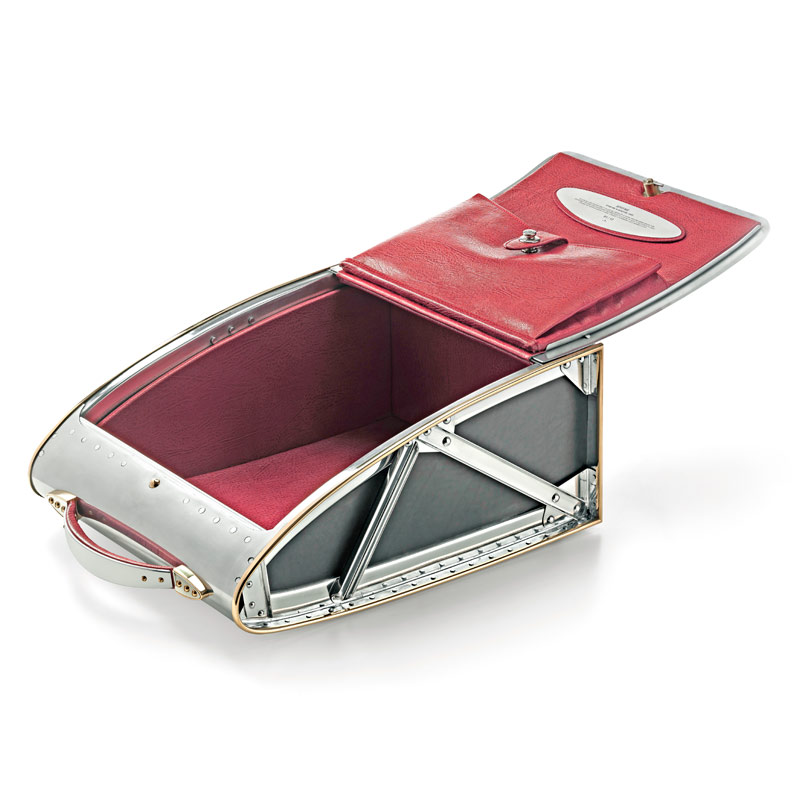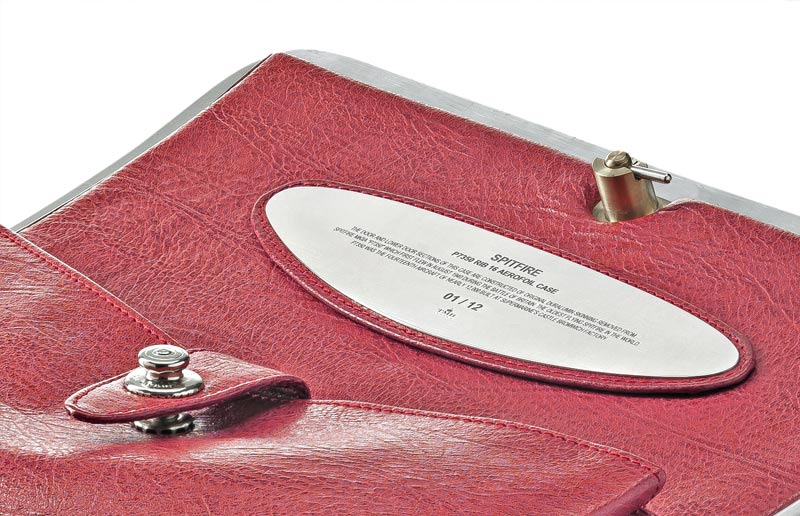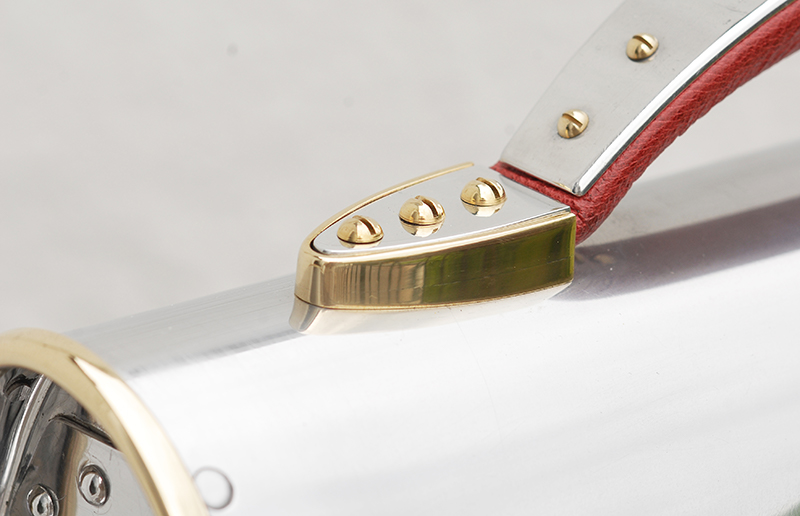 Detail of hand engineered handle fixing, displaying design cues from the Spitfire's wing.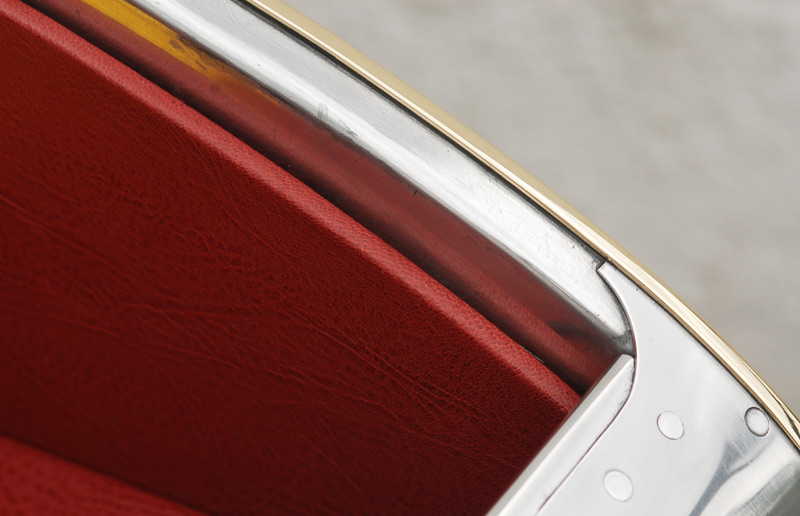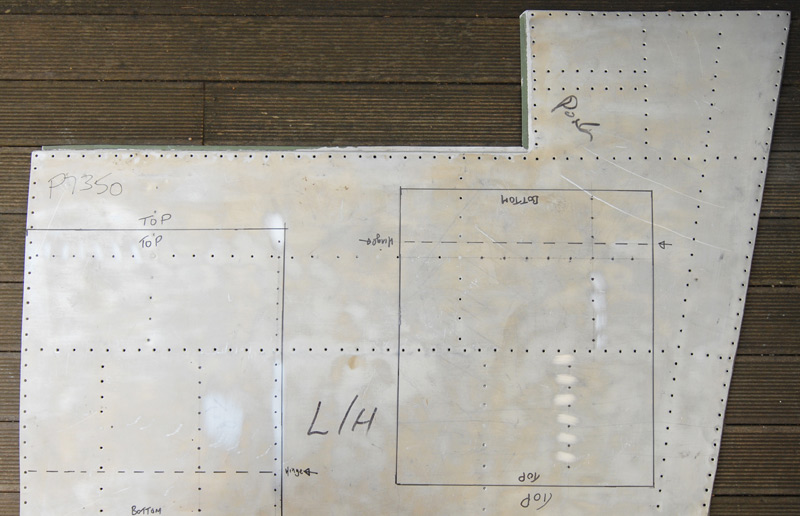 A section of original 1940 Duralumin skinning removed from P7350 during her 2008 restoration, here seen marked out for two door/lower door case panels.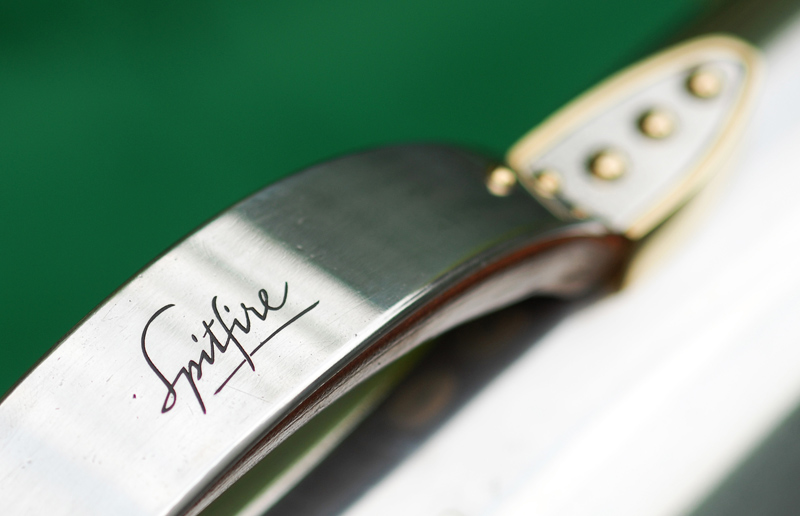 Ex-P7350 Duralumin handle top plate engraved with the iconic name "Spitfire". Alternatively this can have the owners initials or name engraved instead of, or as well as.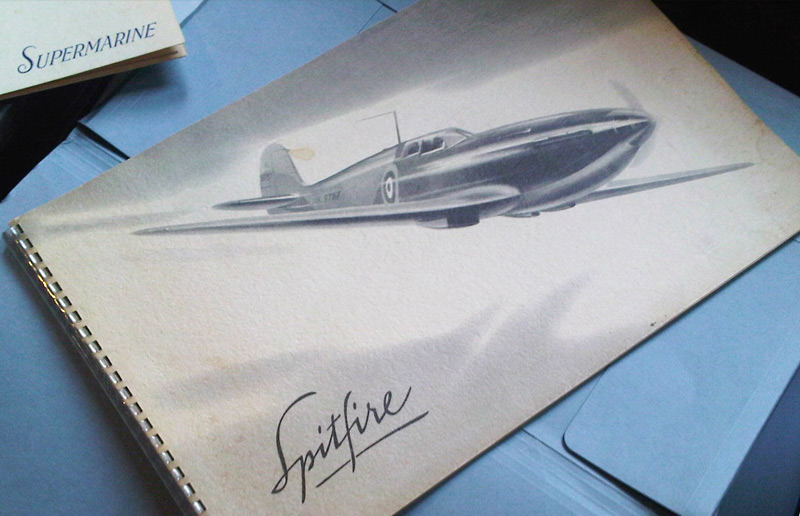 Original 1930's Supermarine brochure announcing the birth of the iconic Spitfire.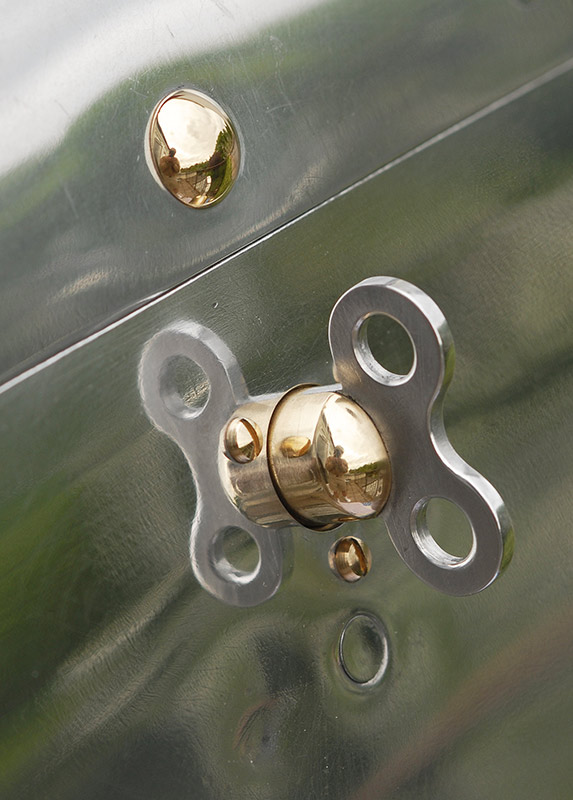 Detail of hand engineered turn and push catch, the shape of which is taken from catches used on the Spitfire.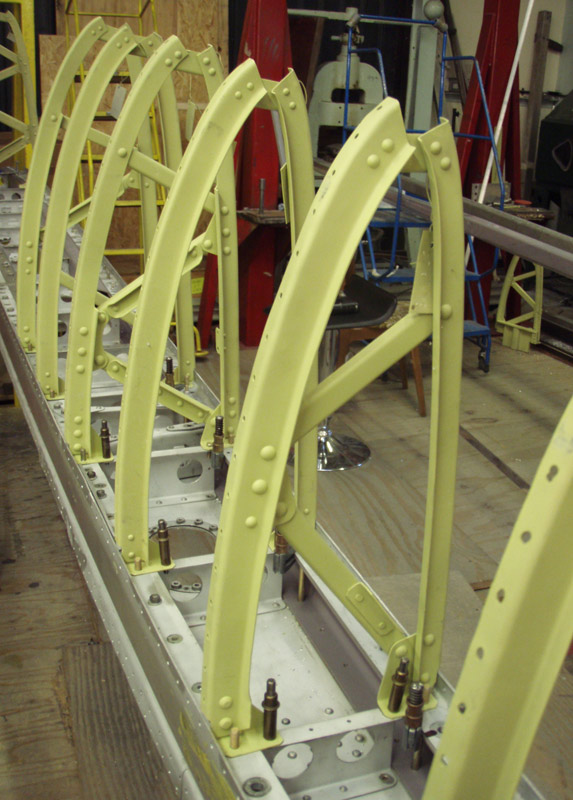 Nose ribs in situ on a restored Spitfire's wing.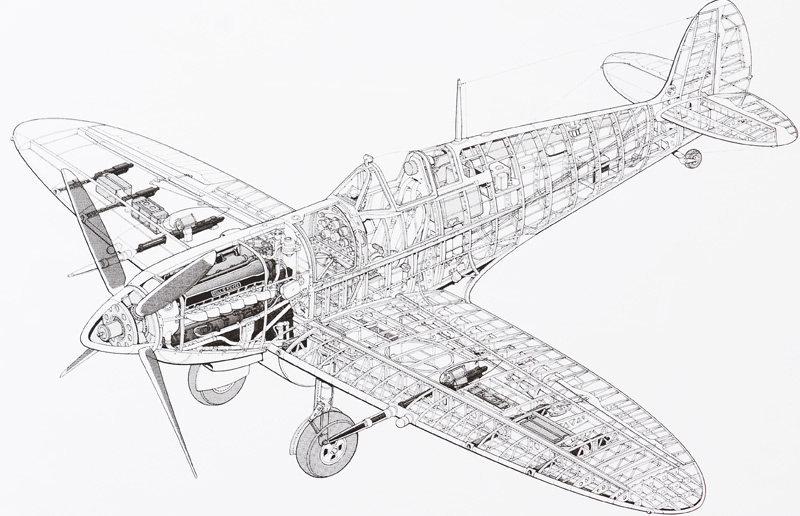 Cutaway drawing of the Spitfire. The nose ribs can be seen along the leading edge of the wing, diminishing in size as they progress from fuselage to tip.