SUPERMARINE SPITFIRE
Spitfire MkIIa P7350 Wheel Cufflinks
The Supermarine Spitfire is one of the most recognised of all British icons and no other TMB products attract so much interest as those dedicated to this legendary machine. In response to requests for more items we've released our Spitfire Wheels, designed around the early five slotted main landing wheel fitted to Battle of Britain 1940 vintage Spitfires.
To add to the fascination these links are crafted of Duralumin originating from "P7350", the oldest flying Spitfire in the world, which first flew in August 1940 during the height of the Battle of Britain and is now the most original, significant and monetarily valuable Spitfire in existence.
There are three variants of the cufflinks, all essentially similar but with tyre options. You can have tyres in polished Duralumin so the entire link is in effect bright silver coloured, have the tyres black anodised to make the wheel look more realistic, whilst a third option features tyres in bronze, giving them a lovely rich golden colour which contrasts beautifully against the silver Duralumin. We don't have bronze originating from P7350 so these tyres are crafted of metal from the locomotive Flying Scotsman. No relation to the Spitfire but very much another icon of British engineering! The rounded wheel works admirably as a cufflink and is very tactile too.
Each design is housed in a high quality wooden presentation case with certificate of provenance.
As with all our products, the Spitfire Wheels are entirely hand crafted and finished in England. Minor surface imperfections, barely visible when worn, may exist, but such is the nature of using 75 year old ex-Spitfire metal and only adds to their character, providing a pleasant and rather appropriate aged look.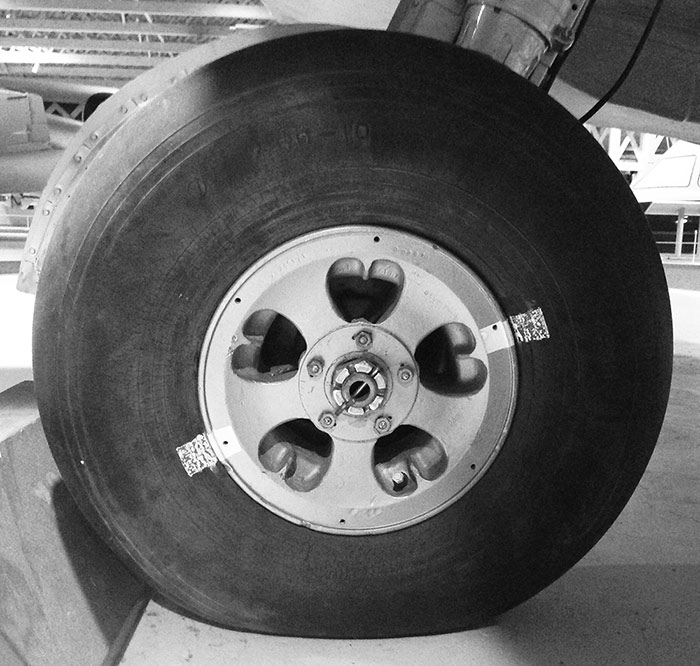 Early Battle of Britain 1940 Vintage Spitfire Wheel and Tyre